'A Mystery Before Midnight' Game Synopsis
6 - 12 Guests (18 and over)
Charlie's annual holiday party is the social event of the year. The revelers invited are very excited to celebrate fun times and good cheer. With party hats, horns and sparklers, into cocktails they did delve, Until stunned by the death of their generous host before the strike of twelve. Now who at this holiday happening would cause such a sorry plight, By murdering the host who gave nary a toast, it was A Mystery Before Midnight!

This simple to use adult murder mystery for 6-14 people is a great way to move a party, have lots of fun and entertain your guests. Join the holiday revelers in their exciting quest to discover whodunit!



>> Characters
>> Sample Game Materials
>> Party Theme for This Game


Register for this Game
Registration is free, but you will need to purchase to see the materials:

Contents
Host Instructions
Guest Instructions
Character Descriptions
Character Motives
Game Clues
Print-able Invitations
Email-able Invitations
Invitation Tracking
Name Tags
Pre-Game Clues
Suggested Recipes
Tips from Other Hosts
Bulk Emailing Tools
Scripts (Large Group Games Only)
Cast Materials (Large Group Games Only)
Team-Building Features (Available only in Team Building version)
Facilitator's Instructions
Team Assignments Tools
Team Building Activities
Table Tents
Team Building Tips and Suggestions
Questionnaires and Team Review Tools
Awards
Murder Mystery Reviews
Fun games! Lots of laughter and intrigue. A must for an entertaining event!
Cathy - US
Wednesday, September 07, 2016

It was fun! There was more prep-work than there would have been with a store-bought package, but it wasn't hard. I stuffed clues in envelopes, and since I was playing, I had to keep reminding myself not to read the clues! Also, you can probably cruise through the whole game in about 30 minutes if you really wanted to (I don't recommend that though; there's a lot of fun to be had throwing wild guesses and accusations around). We finished in about 2 hours (we broke character a bit during dinner and chatted as normal humans; it didn't hurt the game). We only had six people (me included). The game is definitely as good as you decide to make it! We dressed up, stayed in character (for the most part), and made it fun. The props are not absolutely necessary, they're more for show. Definitely make sure you have an open-minded bunch who are ready to do some very mild acting, and you'll have fun!
David M. - Atlanta, GA
Wednesday, December 30, 2015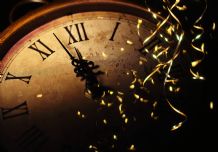 Game Information
Game Categories