'Spooky Hollow Horror' Game Synopsis
8-14 Guests
The grand celebration of the new owner of Spooky Hollow Manor has been overshadowed by the spine-chilling murder of one of the guests. Since everyone is a suspect in this act of foul play, this ghoulish gang is out for an evening of fright and horror! All guests will have fun playing their unique characters and investigating this unpredictable outcome.

This simple to use murder mystery for 8-14 people of all ages is a great way to entertain your family and friends and transport them into a wonderful haunted house adventure full of weird and wacky characters. Dust off your cobwebs and join in the fun!



>> Characters
>> Sample Game Materials
>> Party Theme for This Game


Register for this Game
Registration is free, but you will need to purchase to see the materials:

Contents
Host Instructions
Guest Instructions
Character Descriptions
Character Motives
Game Clues
Print-able Invitations
Email-able Invitations
Invitation Tracking
Name Tags
Pre-Game Clues
Suggested Recipes
Tips from Other Hosts
Bulk Emailing Tools
Scripts (Large Group Games Only)
Cast Materials (Large Group Games Only)
Team-Building Features (Available only in Team Building version)
Facilitator's Instructions
Team Assignments Tools
Team Building Activities
Table Tents
Team Building Tips and Suggestions
Questionnaires and Team Review Tools
Awards
Murder Mystery Reviews
1st time hosting a "Murder Mystery Party" and we loved it. It was so much fun! I have to admit I was a little nervous but the way the game was laid out and all the party host guide it all came off with out a hitch. All the guest love it as well and everyone is talking about which "Murder Mystery" we are going to do next year. This will definitely be a first of many more to come. Thank you!!!
Edmond &. - Archbold, Ohio
Thursday, October 22, 2015

We really enjoyed "Spooky Hollow Horror." It was a fun Halloween themed game. Very easy to play and the personalities in this game are a riot. It's very easy to plan this party. A creepy buffet worked out great for us. And decorating is simple. Just decorate as you would for any Halloween event. The costumes are easy to create. As with many of the games by this author, make sure your players are very outgoing and like to role play their characters. This makes the game so much more fun. The character background gives you tips on how to act like your character and if your guests let loose and go for it, it makes for a laugh out loud night. The "vampire" discussing bloody operations to everyone he chats with or the "ghost" who enjoys scaring the "over-frightened" guest. It worked out great. Also, if the host prepares ahead of time, like instructed to, you can create a crime scene and make things seem more "real" for your guests. Also, this game is very light-hearted and it's not for puzzle solvers or people looking for an in-depth mystery. The game is more fun to simply be played and enjoy. There is a crime and the clues are there, but make the solving of the crime only part of the fun. There's also additional ideas for extra games to help keep the evening moving along. My guests had a great time, loved the characters and we just had a great Halloween night of laughs.
Dennis A. - South Plainfield, NJ USA
Friday, November 07, 2014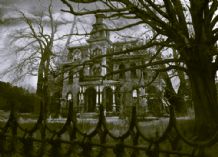 Game Information
Game Categories