'A Cereal Killer?' Game Synopsis
6 - 12 Guests
The Annual Cereal Party is the setting for this mystery regarding a controversial cereal that is missing. Cocoa Donuts has disappeared and the other cereals have been summoned as suspects in this act of foul play. Join the cereal gang to discover whodunit! This lighthearted mystery brings a whole new meaning to the words, "cereal" killer. All guests will have fun playing their unique characters and investigating this unpredictable outcome.

This simple to use non-murder mystery for 6-12 people is a great way to entertain your family and friends. Ideal for young teen or pre-teen girls, this game would be great fun at a birthday party or sleep-over.



>> Characters
>> Sample Game Materials
>> Party Theme for This Game


Register for this Game
Registration is free, but you will need to purchase to see the materials:

Contents
Host Instructions
Guest Instructions
Character Descriptions
Character Motives
Game Clues
Print-able Invitations
Email-able Invitations
Invitation Tracking
Name Tags
Pre-Game Clues
Suggested Recipes
Tips from Other Hosts
Bulk Emailing Tools
Scripts (Large Group Games Only)
Cast Materials (Large Group Games Only)
Team-Building Features (Available only in Team Building version)
Facilitator's Instructions
Team Assignments Tools
Team Building Activities
Table Tents
Team Building Tips and Suggestions
Questionnaires and Team Review Tools
Awards
Murder Mystery Reviews
We did this game with all of the kids at our "after Christmas" family party with the extended family. We had 9 children ranging in age from 2 to 14. Most of the kids could read, but we did have 4 adults who helped the kids who couldn't read their own clues. We changed the name and the clues to be "Who Stole the Cereal" to keep it kid friendly and appropriate- especially for the little ones. I was amazed at how attentive the kids were and how much they enjoyed figuring out who stole Cocoa Donuts. It was the perfect amount of time because just as the kids started to get a little restless was when it was time to reveal the solution. We served the meal after the kids finished their mystery so that they could focus on one thing at a time. We didn't have the kids mingle. They just sat in a circle around the table. They did a really good job and are already asking when they can do another one!
jenfm - Rapid City, South Dakota
Monday, December 28, 2015

It was hilarious and fun especially Raisin being full of himself Granny K being so old and Cheery being all so annoyingly happy my girls loved them Those parts were very fun we love this and hope we can do it again.
vickie K. - 741 Aspen ct
Tuesday, February 17, 2015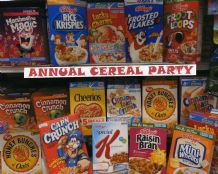 Game Information
Game Categories