'Curiouser and Curiouser (An 'Alice' Murder Mystery)' Game Synopsis
8-14 Guests (including Host)
There's been a murder at the Mad Hatter's tea party! Who would have wanted to kill the Knave of Hearts? "Curiouser and Curiouser" is your chance to step into the pages (or through the looking-glass) of Lewis Carrol's most famous works, play one of these beloved characters from the 'Alice' books and solve this puzzling mystery. This game includes the added fun of Alice knowledge questions (called Take Some More Tea) and plenty of decorating suggestions. You and your guests will have a 'brillig' time!

Who killed the Knave of Hearts? Attend this Mad Tea Party and discover the answer. This is a mystery party for anyone who loves the 'Alice' books.



>> Characters
>> Sample Game Materials
>> Party Theme for This Game


Register for this Game
Registration is free, but you will need to purchase to see the materials:

Contents
Host Instructions
Guest Instructions
Character Descriptions
Character Motives
Game Clues
Print-able Invitations
Email-able Invitations
Invitation Tracking
Name Tags
Pre-Game Clues
Suggested Recipes
Tips from Other Hosts
Bulk Emailing Tools
Scripts (Large Group Games Only)
Cast Materials (Large Group Games Only)
Team-Building Features (Available only in Team Building version)
Facilitator's Instructions
Team Assignments Tools
Team Building Activities
Table Tents
Team Building Tips and Suggestions
Questionnaires and Team Review Tools
Awards
Murder Mystery Reviews
This game was great. The detail put into the clues was hard to follow at some points but if you have all the mandatory characters it will start to come together (unfortunately for me one person never showed up!!). I loved how it was very much based of the personalities of the characters, it wasn't to far stretched from what would actually go on in wonderland. I would recommend this game to anyone and every age!
cj w. - Calgary, Alberta
Thursday, August 20, 2015

We had so much fun thank you! We didn't manage to work out an order for the clues for round 1 and 2 but it just added to the wonderland confusion. Really great fun it was a group of 14 16 year olds and we really got in to it, make sure everyone really gets in to dressing up and we did decorations with a giant pack of cards, Alice in wonderland quotes and flowers. We hid all the clues and then the table was arranged with loads of cakes and tea party food and of course TEA! we played the all change hatter game every so often and had such a laugh. Making the table look nice and tea partyish (loads of food) really adds to the atmosphere. I'd recommended for girls from 10 up definitely, it doesn't even matter if they haven't read the books at all.
Harriet F. - Great Britain
Tuesday, April 14, 2015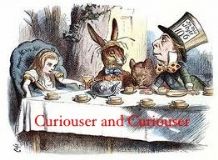 Game Information
Game Categories