'A Fatal Fairy Tale' Game Synopsis
6 - 10 Guests (including host)
Once upon a time, in a land far, far away, there were princesses, evil queens, a handsome prince, a friar, a farm girl, a legendary detective, a doctor and...a murderer. Welcome to A Fatal Fairy Tale - the game of what happened one dark and stormy night in the land of happily ever after. Leap into the magical world of fairy tales and discover if you and your guests can solve this Fatal Fairy Tale. Goldilocks has been poisoned by a bowl of porridge that was definitely NOT 'just right'. Which of these ten famous literary characters is the guilty party?

Goldilocks has been murdered and Mr. Holmes has a new mystery to unravel. Which famous literary character is responsible? This game is dedicated to everyone who played "Deadly Ever After" and asked me to write another.



>> Characters
>> Sample Game Materials
>> Party Theme for This Game


Register for this Game
Registration is free, but you will need to purchase to see the materials:

Contents
Host Instructions
Guest Instructions
Character Descriptions
Character Motives
Game Clues
Print-able Invitations
Email-able Invitations
Invitation Tracking
Name Tags
Pre-Game Clues
Suggested Recipes
Tips from Other Hosts
Bulk Emailing Tools
Scripts (Large Group Games Only)
Cast Materials (Large Group Games Only)
Team-Building Features (Available only in Team Building version)
Facilitator's Instructions
Team Assignments Tools
Team Building Activities
Table Tents
Team Building Tips and Suggestions
Questionnaires and Team Review Tools
Awards
Murder Mystery Reviews
I hosted this game for 9 other girls age 10-14. They loved it! Each girl had fun dressing up and getting into character, with arguments actually getting heated. The murderer was much harder to guess than anticipated, but that just made it more fun!
Shoshana - Oregon, United States
Monday, May 14, 2018

This was an amazing party! We had so much fun playing the characters, it gave us lots of laughs. The outcome was crazy, it took everyone by surprise.
Rebecca - United States
Wednesday, February 28, 2018

We hosted a small birthday party with four 12 and 13 year olds with the Fatal Fairy Tale. My daughter wanted to have guests come up with their own characters (or pick from the list). So we had a Detective Conan Edogawa (mapped nicely to the Holmes character), a President of a neighboring country, a street urchin, and Merlin. Had to modify the clues to match the new characters and the two parents took other characters (especially Cinderella). The girls really liked the game - "the best birthday party I have been to in a long time." Lots of fun.
Doug V. - Chicago
Thursday, November 16, 2017

This game was terrific! We had 6 13yr olds and it was a blast. We took the advice of previous reviews and did not do the bookmark game. Instead, in order to earn the bonus clue, they "drew straws". Actually, it was picking the chocolate peep with red food coloring on it..they got the clue. All in all it was a very good game. Clever and a ton of fun. The website and ability to send invitations was terrific. I was impressed all around and then even more impressed when my kids had an absolute blast!
colleen d. - marin, california
Monday, October 30, 2017

A murder mystery party was a perfect idea for my daughter's 15th birthday party...teenagers love to sit around & chat and this would give them some focus. I had fun preparing for "A Fatal Fairytale". Lots of props from op shops created the scene for a medieval feast! On the day of the event my daughter staged the "crime scene" and instagrammed it to her friends telling them they were suspects. Everyone engaged with the fun by dressing according to their character and thoroughly surprised me with how well they took on their roles. From start to end they stayed in character. So impressed! Would highly recommend but would say the more preparation you do the greater chance it has to succeed and make sure there some players that like a bit of drama..they'll lead the way.
Emilie C. - Torquay, Australia
Saturday, July 29, 2017

Played this with a group of 10-11 year-olds, who enjoyed it a lot. They loved the dressing up and role-playing their characters. It was a good one for children as they were all simple characters who they already knew. The game lasted 1.5 - 2 hours. Recommended!
Max K. - UK
Saturday, April 15, 2017

With some slight modifications, this game was great for a 10 yr old birthday party.
Alice H. - New York
Friday, May 27, 2016

I really enjoyed it :) Although the solution was much more complicated than we anticipated. We just agreed to reveal all the reveal 'conceal' clues which speed things up!
Madeleine B. - Christchurch, NZ
Friday, May 13, 2016

This was a fantastic game. Everyone had a really great time coming up with fun costumes and they loved playing their part. No one knew who the killer was until the end and it was a suprise for everyone! We will be playing another game in the future!!
Amanda - Minnesota
Friday, November 14, 2014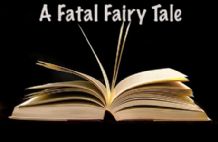 Game Information
Game Categories