'Death by Chocolate (teen version)' Game Synopsis
8 - 12 Guests (13 and over)
A joint party is being held at Thornbury's Chocolates to launch the new range of Symphony Chocolates and also to celebrate the 18th birthday party of Shopin Channill (That's pronounced Show-pan) who is the daughter of Thornbury's owner Cocoa Channill. What could possibly go wrong on such a happy night?

A chocolatey murder mystery for 8 to 12 teen players set at a new product launch party. Great for kid's parties.



>> Characters
>> Sample Game Materials
>> Party Theme for This Game


Register for this Game
Registration is free, but you will need to purchase to see the materials:

Contents
Host Instructions
Guest Instructions
Character Descriptions
Character Motives
Game Clues
Print-able Invitations
Email-able Invitations
Invitation Tracking
Name Tags
Pre-Game Clues
Suggested Recipes
Tips from Other Hosts
Bulk Emailing Tools
Scripts (Large Group Games Only)
Cast Materials (Large Group Games Only)
Team-Building Features (Available only in Team Building version)
Facilitator's Instructions
Team Assignments Tools
Team Building Activities
Table Tents
Team Building Tips and Suggestions
Questionnaires and Team Review Tools
Awards
Murder Mystery Reviews
This was a great party for my daughter's 13th birthday. No-one had been involved in a mystery party before, but it all worked really well and it was so much fun. We added a detective role and set up an investigation room where the 'police photographer' took mugshots of each person, holding a card with their name on and 'SUSPECT', took fingerprints and used the online fingerprint analyser (which everyone enjoyed - lots of "oohs and ahs"!) and had a board to which we pinned the pieces of evidence which came with some of the clues. We had a 'body' under a sheet in there, which also went down well! We did the chocolate tasting game but didn't add any other games. It took almost 4 hours but everyone was really involved in it - it didn't feel too long. 2 people guessed the murderer but it didn't seem possible to truly work it out - all suspects equally implicated. It's not very clear from the instructions that everyone needs to hear all the clues read out; we did this with a buffet meal but had everyone sitting down to read out clues. We'll certainly do another party like this!
Sarah C. - Oxfordshire, UK
Tuesday, October 29, 2013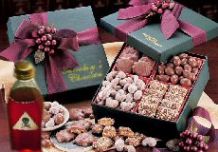 Game Information
Game Categories