'Desperate Neighbors' Game Synopsis
10 - 14 Guests
Something is brewing on Mysteria Lane. It appears another act of foul play has occurred within this beautiful and seemingly tranquil neighborhood. This time it is one of their own. Now the housewives and the men in their lives need to work through this case as they untangle affairs, with the back stabbing, cheating and the other typical offenses that occur day to day in suburbia.

Set in the beautiful Mysteria Lane neighborhood, the coolest party of the year includes trivia, dancing and of course, a murder! Bring your hubby and come join the party fun!

Also available in: Female Only Version

>> Characters
>> Sample Game Materials
>> Party Theme for This Game


Register for this Game
Registration is free, but you will need to purchase to see the materials:

Contents
Host Instructions
Guest Instructions
Character Descriptions
Character Motives
Game Clues
Print-able Invitations
Email-able Invitations
Invitation Tracking
Name Tags
Pre-Game Clues
Suggested Recipes
Tips from Other Hosts
Bulk Emailing Tools
Scripts (Large Group Games Only)
Cast Materials (Large Group Games Only)
Team-Building Features (Available only in Team Building version)
Facilitator's Instructions
Team Assignments Tools
Team Building Activities
Table Tents
Team Building Tips and Suggestions
Questionnaires and Team Review Tools
Awards
Murder Mystery Reviews
We had a wonderful time with this game. The clues were easy to follow and created natural questions and conversations. There were so many suspects and little side plots that it kept us all on our toes. By the time we got to round 4, most of us hated to see it end. Can't wait to do another murder mystery!
TracieOberlanderMahoney - 5801 SW 112th Place Rd
Tuesday, April 19, 2016

fabulous fun
MariaMatriscino-Trowbridge - 6330 Rustinburg Rd
Friday, October 16, 2015

Terrific evening. Our first murder mystery. EVERYONE embraced their characters. An evening of laughs and camaraderie and great fun. Instructions on how to host were extremely helpful and the game flowed beautifully. - "Desperate Neighbors" Mystery Party Review
Linda a. - 7448 Fairfax Drive Bldg D Tamarac FL 33321
Tuesday, July 28, 2015

I was looking for a different way to celebrate my birthday. This will go down has one of the best events we have ever hosted. All of my guests embraced their characters and loved the idea of a murder mystery. The next day everyone was talking about and planning who will host the next one. The preparation easy and the pre-game clues engages your guests before the event. Great game for couples.
Monique B. - New Jersey
Monday, May 19, 2014

Desperate Neighbors was a great murder mystery game. It was my first time hosting and playing and I had such a great time. I invited mostly couples since there were an even amount of boy and girl players so that was perfect. Just cleaned the house since it took place within the neighborhood,so i didn''t really have to use much decor except for tableware. All in all, I think this game is perfect for those hosting their first time and for first time players.
Christie S. - Walnut, CA
Thursday, August 16, 2012

This game was great! only 1 person figured out who the murderer was--the murderer also mentioned that they suspsected by the 3rd clue that they were the culprit. Really great mix of characters if you have couples involved as well as some singles to mix in. Great variety.
Sarah M. - Minneapolis, Minnesota
Wednesday, March 28, 2012

I loved this one. It was so much fun. I added four characters and made up clues for them but it worked out great. I had 18 people at the party and it went off without a problem. Only one of them got the murderer right. Everyone stayed in character the whole night and it made the game alot of fun. I absolutely recommened this game!
Andrew - Canyon, Texas
Sunday, January 01, 2012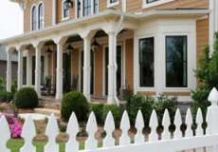 Game Information
Game Categories