'Mistletoe Madness' Game Synopsis
8 - 14 Guests
Deck the halls with mistletoe, and join the holiday fun. "Donatello Soul," a new scent, will soon be number one. The party was in full swing, then to everybody's dread The festivities were hindered when an honored guest dropped dead! Set in the present day, this cool holiday party includes trivia, dancing and of course, a murder! Everyone is a suspect...So, come join the fun!

This simple to use adult holiday murder mystery for 8-14 people is a great way to move a party and have lots of fun, because the murder takes place at the party and all the guests are suspects!



>> Characters
>> Sample Game Materials
>> Party Theme for This Game


Register for this Game
Registration is free, but you will need to purchase to see the materials:

Contents
Host Instructions
Guest Instructions
Character Descriptions
Character Motives
Game Clues
Print-able Invitations
Email-able Invitations
Invitation Tracking
Name Tags
Pre-Game Clues
Suggested Recipes
Tips from Other Hosts
Bulk Emailing Tools
Scripts (Large Group Games Only)
Cast Materials (Large Group Games Only)
Team-Building Features (Available only in Team Building version)
Facilitator's Instructions
Team Assignments Tools
Team Building Activities
Table Tents
Team Building Tips and Suggestions
Questionnaires and Team Review Tools
Awards
Murder Mystery Reviews
We played this game a few days before Christmas and my friends had a blast! We all got into our parts and enjoyed the characters that had accents or props or subtle corks to em. I cannot wait for my next murder mystery! It's best played with all characters represented.
BlaineBeatty - Phoenix, AZ
Wednesday, December 31, 2014

We had so much fun playing this game. It was easy to stay in character and the guests really amped up the fun qualities of each person they played. Tons of fun. Also - I had made a mistake with my order and it was resolved IMMEDIATELY which was wonderful. Great customer service. Thank you!
Christine F. - 1121 Ecklund Street NE
Thursday, December 11, 2014

Great game! We had a blast!
Lauren a. - 2146 Erma Drive
Tuesday, December 24, 2013

This was fun. The best thing about it is the sharing of clues and laughs! You have to pay attention and force yourself not to be shy. I found that the more outspoken and outrageous you are, the more fun you have and so does everyone else. The best part is the reactions you get when someone reveals a little-known clue. Also, just preparing yourself for the character you are playing, including dressing up, your general attitude, etc. and discovering what makes the other characters tick.
Sandy G. - Warrington, PA
Tuesday, December 27, 2011

We had a great time doing the Mistletoe Madness. We did it the day after Christmas and the house was decorated, carols were playing and ready for our "guests". The mystery was good, but it was a little disjointed at times. We''ve done others and this one had less clues to work with and there were also some things the characters were doing that was never explained or brought into the discussion. A little more confusing than others, but, it was fun and a good time was had by all. And, we ALL guessed the murderer wrong, so that was a nice twist at the end for us. And, we were able to fully cast this murder mystery, which does help playing the "game".
Diane C. - Doylestown, Pennsylvania
Tuesday, December 27, 2011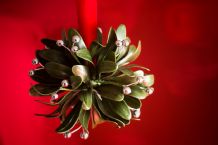 Game Information
Game Categories