'Death by Chocolate (all girl teen version)' Game Synopsis
8 - 12 Girls (13 and over)
A joint party is being held at Thornbury's Chocolates to launch the new range of Symphony Chocolates and also to celebrate the 18th birthday party of Shopin Channill (That's pronounced Show-pan) who is the daughter of Thornbury's owner Cocoa Channill. What could possibly go wrong on such a happy night?

A chocolatey murder mystery for 8 to 12 girls set at a new product launch party. Great for birthday parties or sleepovers.



>> Characters
>> Sample Game Materials
>> Party Theme for This Game


Register for this Game
Registration is free, but you will need to purchase to see the materials:

Contents
Host Instructions
Guest Instructions
Character Descriptions
Character Motives
Game Clues
Print-able Invitations
Email-able Invitations
Invitation Tracking
Name Tags
Pre-Game Clues
Suggested Recipes
Tips from Other Hosts
Bulk Emailing Tools
Scripts (Large Group Games Only)
Cast Materials (Large Group Games Only)
Team-Building Features (Available only in Team Building version)
Facilitator's Instructions
Team Assignments Tools
Team Building Activities
Table Tents
Team Building Tips and Suggestions
Questionnaires and Team Review Tools
Awards
Murder Mystery Reviews
This was a great success. It kept 14 fifteen year olds entertained all evening and the chocolate guessing game was a fun break. We had chocolate cake and chocolate fondue breaks too. We had to add two extra characters which I thought may be complicated at first, but with a little bit of time spent preparing beforehand, I had great fun writing clues for the extra players. It would be easier if the extra clues that you write appear in order on the clue print kit instead of at the end of the list so you can keep track a bit more easily, but apart from that, I couldn't complain. It is a fairly effortless way to entertain a large group of children at a party. I would highly recommend these parties for anyone (and I have been). We have four children and there have already been requests for next year!
Sue B. - Haddington, East Lothian
Wednesday, September 04, 2013

Had a great party for my daughters 13th birthday. A lot of fun and her friends really enjoyed it. I tweaked the clues so that no one knew who the murderer was, however if I was to do this again, with young teens, I would try to simplify some of the clues as some of the rounds took a long time to read. As 13 year olds needed a little guidance we alternated clue rounds with chocolate party games, fruit cocktails, party food and cake... Brilliant evening had by all. A really easy to edit script and fantastic story line.
Helen W. - England
Thursday, February 07, 2013

it was a great party. the only thing we changed was that nobody knew who the murderer was until the end. even the murderer didn''t know she was the murderer until the eigth round. overall it was a TOTAL blast.
Emily
Wednesday, June 06, 2012

I have just finished hosting the Teen Girl version for my daughters birthday party - what a blast they all had. I had tweaked the clues so that no one knew if they were the murderer or not and this helped as a dozen 12 yr olds would not have been able to keep a secret had they known in advance. I played a detective who set up the investigation in a separate room and kept ''borrowing'' suspects for additional questioning. I also fingerprinted them all (download the FBI fingerprint card template - it makes for a great souvenir) and took mug shots which I used to build their ''files'' We kept the menu nice and relaxed, finger food and a chocolate fountain for afters and it flowed really well. I had been a little concerned beforehand that some of the clues were quite in depth, but I needent have been, they all coped very well with reading and acting on cue All in all, a fantastic night was had by everyone, me included :)
Andy B. - Darlington, England
Tuesday, March 20, 2012

DEATH BY CHOCOLATE For my fifteenth birthday, I decided I would do a murder mystery. After researching for a while, I eventually found this website. The system of creating an account and receiving all the needed information, ideas, etc. by reading those printouts was perfect, for I had less than two weeks until the actual event, and shipping these "how to host a murder" games from the UK might have taken too long. Organizing the papers can take a while, so organize them systematically. I had one folder for each character and placed the neatly cut clues for Round 1 in one plastic sleeve, then had a coloured sheet next, followed by another plastic sleeve, containing Round 2 (with another coloured (dividing) sheet afterwards), and so on. The whole process was worth it, though. On the day, I had an amazing time and the guests did too. Because we had "Death by Chocolate", we truly had a chocolate theme going on then; starting with chocolates simply decorating the table, to tasting chocolate samples and then having a chocolate fondue! I would definatelly recommend this to anybody, though- for it truly was a really fun experience solving the murder mystery!
Hannah - Munich, Germany
Wednesday, February 22, 2012

My daughter just did this for her 12th birthday. It was great! Everyone had a good time and no one guessed the murderer. Very fun!
Melinda - Arkansas
Sunday, January 29, 2012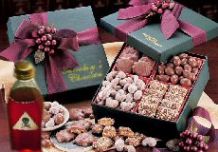 Game Information
Game Categories