'GREAT GODS....It's a MURDER!' Game Synopsis
8 - 12 Guests
Set on the Island of Crete, the celebration of the season has halted as the gods have been stunned by the murder of their leader. What fun your guests will have playing their unique characters and investigating this crime. Great for toga parties!

Set on the Island of Crete, the playground of the gods, this cool party includes trivia, dancing and of course, a murder! Everyone is a suspect...So, come join the fun!



>> Characters
>> Sample Game Materials
>> Party Theme for This Game


Register for this Game
Registration is free, but you will need to purchase to see the materials:

Contents
Host Instructions
Guest Instructions
Character Descriptions
Character Motives
Game Clues
Print-able Invitations
Email-able Invitations
Invitation Tracking
Name Tags
Pre-Game Clues
Suggested Recipes
Tips from Other Hosts
Bulk Emailing Tools
Scripts (Large Group Games Only)
Cast Materials (Large Group Games Only)
Team-Building Features (Available only in Team Building version)
Facilitator's Instructions
Team Assignments Tools
Team Building Activities
Table Tents
Team Building Tips and Suggestions
Questionnaires and Team Review Tools
Awards
Murder Mystery Reviews
Fantastic Murder! Guest had a great time dressing up and the food and music were so easy to pull together - we had several extra nymphs, slaves, and background gods who had as much fun as the main cast. Strongly recommend this one.
James C. - Melbourne, Australia
Tuesday, July 19, 2016

My improv group loved playing this game. It felt like it zipped by so fast, with only two rounds before the big reveal. Lots of fun characters, though. We all had a fun time!
Amuse B. - Virginia
Saturday, May 03, 2014

This game was SUPER fun!! We ended up not having two of the not so important characters and it still was great. People got right into the whole plot and the costumes they came up with were amazing and surprisingly detailed. I hosted this party and did a completly Greek themed dinner. It has been about a month since we did this party and it went over so well that we have begun planning our next party in just a few weeks. I really really recommend this game, especially if it is your first you are throwing because the theme is easy to cook and decorate for and everyone has a white sheet they can make into a toga. We still yell OPA! to each other whenever we are in the same room!!
Tanis
Thursday, December 12, 2013

The website and print materials were VERY helpful. It made the planning SO easy. However,we did not like this writing as well as some of the past murder mystery dinners. The set up was good, but the evidence pointed to all guests equally. "Solving" the murder was actually just guessing. Since our guest list included some super sleuths they were really frustrated with that element. Fun but not fabulous. We did REALLY enjoy the finger print analyzer. (Although even that was very little help in guessing I mean solving the murder.
Pattie B. - 8504 W 60th St
Wednesday, October 31, 2012

I chose God ... it''s a murder to celebrate my wedding anniversary, 18 guests in total. The party was a success, everyone came dressed according to the slopes, I had sent earlier. The party was fun, all my guests talked about the costumes, the characters and the food. Buy a coconut cake decorated with grapes, decorate the house in the Greek style, a sangria made from grapes was the drink of the night. Everything went great, no hesitation in returning to be another murder mystery next year. Since right now all my friends ask me when it will make another party where no one will miss.
Ivannia R. - East Hampton, New York
Saturday, May 12, 2012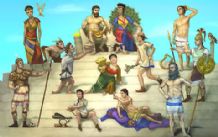 Game Information
Game Categories