'Mysteria Lane Ladies' Game Synopsis
6-10 Female Guests
Something is brewing on Mysteria Lane! It appears that another act of foul play has occurred within this beautiful and seemingly tranquil neighborhood. Now these desperate, neighborhood ladies need to solve this case as they untangle affairs with the back stabbing, cheating, stealing and other typical offenses that occur in day to day suburbia.

A murder mystery, strictly for women, set in the beautiful Mysteria Lane neighborhood. Great fun for hen parties or any all girls night...So, come join this murder adventure!



>> Characters
>> Sample Game Materials
>> Party Theme for This Game


Register for this Game
Registration is free, but you will need to purchase to see the materials:

Contents
Host Instructions
Guest Instructions
Character Descriptions
Character Motives
Game Clues
Print-able Invitations
Email-able Invitations
Invitation Tracking
Name Tags
Pre-Game Clues
Suggested Recipes
Tips from Other Hosts
Bulk Emailing Tools
Scripts (Large Group Games Only)
Cast Materials (Large Group Games Only)
Team-Building Features (Available only in Team Building version)
Facilitator's Instructions
Team Assignments Tools
Team Building Activities
Table Tents
Team Building Tips and Suggestions
Questionnaires and Team Review Tools
Awards
Murder Mystery Reviews
We had a ball. Everyone really enjoyed the evening and got into the evernt with dress and all. I had arranged for a deputy sheriff to be there at the murder scene. Needless to say, everyone was shocked. Great fun!!
Connie C. - Mysteria Lane Country Club
Thursday, October 25, 2012

I''ve been to Murder Mystery games in real life, and I thought, "I would love to do this with my friends in Second Life." (Second Life is an avatar-driven social network.) I invited friends from Italy, Sweden, Slovenia, and the US. I hosted the party at my "villa" in Second Life, and we all had a wonderful time! I wish I had thought to take pictures. These parties work just as well in Second Life as they do in real life. I highly recommend it.
Bourbon Z. - Brittania, Second Life
Monday, October 24, 2011

I purchased this game for our book club. We read "The Neighbor" by Julie Gardner in conjunction with this game. Our group had alot of fun with this game.
Nikki F. - Gladstone, ND
Thursday, August 11, 2011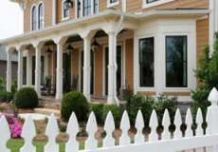 Game Information
Game Categories