'A Holiday Murder' Game Synopsis
8- 14 Guests
T'was the eve of the holidays, good times was the quest, And all were excited 'til the murder of a guest! The victim was discovered in a blood-soaked bed, With a note in the hand and a wound in the head! Set in the era of the 70s & 80s, the coolest party of the holidays includes trivia, dancing and of course, a murder! Everyone is a suspect of this vicious crime. Come join the fun!

This holiday murder mystery game for 8-14 party guests is a great way to move a party, have lots of fun and entertain your guests! Set in the era of the 70s & 80s, it includes trivia, dancing and of course, a murder! Come join the fun!



>> Characters
>> Sample Game Materials
>> Party Theme for This Game


Register for this Game
Registration is free, but you will need to purchase to see the materials:

Contents
Host Instructions
Guest Instructions
Character Descriptions
Character Motives
Game Clues
Print-able Invitations
Email-able Invitations
Invitation Tracking
Name Tags
Pre-Game Clues
Suggested Recipes
Tips from Other Hosts
Bulk Emailing Tools
Scripts (Large Group Games Only)
Cast Materials (Large Group Games Only)
Team-Building Features (Available only in Team Building version)
Facilitator's Instructions
Team Assignments Tools
Team Building Activities
Table Tents
Team Building Tips and Suggestions
Questionnaires and Team Review Tools
Awards
Murder Mystery Reviews
The Murder Mystery Dinner was a great success! Everyone came in character and costumes. We did it in about 3 and half hours. Since I wasn't Shirley Good and I didn't read the solution clues it was a fun surprise at the end. The website was helpful with characters suggestions and emails contacts. Tips for future: print all the clues out early and get them in envelopes, create a buzz with guest,one thing I did was use 70 and 80 slang words in emails and text and everyone loved that, it help create the Buzz! get all your props early. I waited till the last 2 day before the party and it turn out to be a lot of work. Once everything is setup the party was a blast!!!! I would do it again and would recommend it to friends. Thanks Robin Duke
Robin D. - Vancouver, Canada
Saturday, November 11, 2017

Great fun! We really had a good time! This is our second host-party game and it was as much fun as the first time. It gives flexibility to play with things by having the print options.
Jo - Boulder Creek, CA
Wednesday, January 01, 2014

Really fun game, lots of great characters! We only had 8 of the 15 characters though and it did seem like missed some of the game without the other 7. Would recommend filling all the roles if possible. We all had fun though & my guests liked the fingerprint analyzer too!
Amber W. - Minnesota
Monday, November 26, 2012

Our group had a blast! Everyone came in costume & really played up their characters. It definately makes a dinner party more exciting!
Cathy D. - St. George, Ontario, Canada
Thursday, August 09, 2012

It was a good time once we figured out what to do. Next time will be even better! Thanks Brandi.
Michelle
Monday, January 02, 2012

Thank you very much Betsy. Your mystery is very involved when you take the time to understand all of the characters and their ''interactions''. What an imagination you have. Thank you and please author another one for next New Years eve. I definitely like your style!
Mike L. - Minneapolis, MN
Thursday, December 09, 2010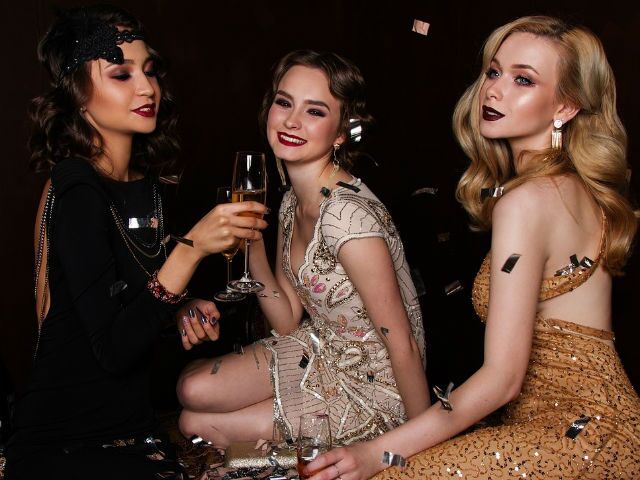 Game Information
Game Categories