'Trailer Trash Tragedy' Game Synopsis
8-14 Guests
This annual party banquet takes place at Gonagen Trailer Trash Park, where the residents have gathered to guzzle beer and box wine, and chomp down vittles while they celebrate nothing in particular "just a good ole time for all of us to get together," says Big Hoss Beaver, the host. However, this year the event was dampened by the unforeseen murder of one of the residents! Who, at this totally unfashionable party, created this trailer trash tragedy? All guests will have fun playing out their individual characters and investigating this unpredictable event. Whodunit and why, are the mysteries the rest of the trailer folks are determined to solve before the murderer strikes again!

The Gonagen Trailer Trash Park is the setting for this murder mystery game for 8-14 player guests. All of the residents come together to celebrate this grand event, the Annual Trailer Park Smorgasbord Dinner and Dance party. However,the party is overshadowed by the murder of one of the residents!



>> Characters
>> Sample Game Materials
>> Party Theme for This Game


Register for this Game
Registration is free, but you will need to purchase to see the materials:

Contents
Host Instructions
Guest Instructions
Character Descriptions
Character Motives
Game Clues
Print-able Invitations
Email-able Invitations
Invitation Tracking
Name Tags
Pre-Game Clues
Suggested Recipes
Tips from Other Hosts
Bulk Emailing Tools
Scripts (Large Group Games Only)
Cast Materials (Large Group Games Only)
Team-Building Features (Available only in Team Building version)
Facilitator's Instructions
Team Assignments Tools
Team Building Activities
Table Tents
Team Building Tips and Suggestions
Questionnaires and Team Review Tools
Awards
Murder Mystery Reviews
We just did the trailer park tragedy and had a blast with some old high school buddies and their wives. Everyone came in character, they enjoyed the fine dinner entree of chili hot dogs wrapped in tortilla shells mac and cheese and the fine appetizer of spam and saltines. Can't wait to do our next one.
Gail C. - Omaha, NE
Thursday, January 26, 2017

Was fun and entertaining, although no one guessed the murderer.
Stephanie - Gilbert, Az
Wednesday, January 25, 2017

I think my guests had a good time, and only two guessed the correct murderer. Everyone wore costumes and got into character. Some of the online features didn't work, such as sending the game materials to Kinko's and emailing a link to the post-party website after the party was over. Food and decorations were easy for this murder mystery. Reading the clues while attempting to act was a little awkward.
Erika S. - Tucson, AZ
Friday, October 28, 2016

Cute game, I put some prop ideas into pinterest.com under Kendra Brott for this game. Wish you customize a bit easier with no formatting issues. Adding characters was a ordeal. I'm sure this will be fixed in the future. We've used Host-Party before and they only seem to get better :)
Kendra B. - Eugene, OR
Friday, January 01, 2016

We had a hard time choosing from the large selection of themes! This was all of our first internet based murder mystery party. Trailer Trash Tragedy is a crack up. Great characters and character tips. There should not be an option to assign a guest's name to Mitzi Laroux (a bit confusing to be able to "unlock" her character). We hung clotheslines, found fitting magazines for the tabletops, got gross artificial flowers, and went all out with the canned beer and junk food. It's not an expensive theme, especially if you shop the second hand stores for cheap finds. It took us a little over two hours to play the game, and people really ended up getting into their character, accents and all. The fingerprint analyzer was a fun way to narrow down suspects. We did it right before the Solution Clue. Overall very satisfied with our first internet murder mystery. Lots of fun, would highly recommend to any adult party!
Kelly &. - Eugene, Oregon
Sunday, November 22, 2015

We had a blast playing The Trailer Trash Tragedy! Everyone dressed up and stayed in character all night. Can't wait to do this again!
Danielle - Gainesville Florida
Tuesday, August 04, 2015

The Trailer Trash Tragedy is a fun game. It is just as intended....outlandish....and a bit sterotypical. Exactly what we were looking for in a fun alternative for a wedding rehearsal dinner! At first, people are somewhat squirmish. They are non~commital in character and participation...but once you get going~ even the most 'shy' of prospects is interested and intrigued to play along. My son, the groom, absolutely~positively~ did NOT~ want to have a 'character' . He just wanted to 'watch'...but as the game progressed...and key characters were receiving envelopes with clues...he started questioning 'why' and 'where's my envelope?'~ This particular game was for 15 characters....and I had created an additional 20! In hindsight.....I should have created additional clues as well......people truly do 'get into' the game!. I would suggest to anyone wishing to expand on this game....adding clues for any added characters. Even if you don't think they will want to 'play' along...trust me...they will! All in all a very fun game. Redneck is simple...it is easily portrayed...and the characters are soooo bad!
TracyJudice - Poulsbo Inn & Suites
Monday, June 22, 2015

Everyone enjoyed dressing the part for this game. The characters were great! We served smoked baloney, crackers, and squirt cheese as appetizers. Decorations were easy, as I just hung a clothes line with boxer shorts and rags. I used random old table cloths and served chili for dinner. We had a chinese gift exchange, spam carving contest. The coveted chinese gift was a real stuffed squirrel, and the prizes for the spam carving contest was a can of fix a flat and a bottle of Bones Farm wine. BTW the spam carving contest was a HOOT! Loved this game!
Dea - Missouri, USA
Friday, January 23, 2015

I have hosted many fun murder mystery parties but Trailer Trash Tragedy has been the most hilarious! First of all,the pressure is off because there's no heavy duty cleaning or food preparation for this theme. We decorated the garage and house with a clothes line filled with trashy clothes, a mounted singing deer, beer can lights,and whoopie cushions, just to mention a few things. The characters in this party had very colorful personalities which allowed our guests to really get into costume and have fun with their parts. The gift exchange was hoot! The only thing I would suggest changing is to start serving the appetizers during the gift exchange because it is otherwise a long time to wait to eat. A great time was had by all!!
Jennifer D. - Thornville, Ohio
Tuesday, January 20, 2015

This was a great game and tons of fun! People got into this one more than some of the other ones we have done. Everyone seems to have a little trailer trash in them!
Jenny C. - Kansas
Tuesday, March 04, 2014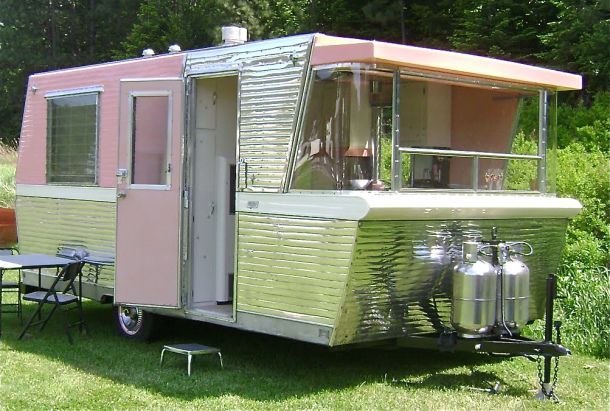 Game Information
Game Categories