'That '60s Murder' Game Synopsis
8 - 14 Guests (including Host)
Hey man, come and spend some time at the Happy Earth Commune where there's peace, love...and murder. (what a bummer) Big Daddy has gathered everyone together to groove to some tunes and peace out in each other's company. Poisoned tofu? Who'd have guessed? That '60s Murder is a light, fun mystery including a Dance Groove-Off and Trivia Challenge. Can you think of a groovier way to spend an evening?

It's the hippest way to celebrate the '60s - dancing, trivia and solving a strange murder!



>> Characters
>> Sample Game Materials
>> Party Theme for This Game


Register for this Game
Registration is free, but you will need to purchase to see the materials:

Contents
Host Instructions
Guest Instructions
Character Descriptions
Character Motives
Game Clues
Print-able Invitations
Email-able Invitations
Invitation Tracking
Name Tags
Pre-Game Clues
Suggested Recipes
Tips from Other Hosts
Bulk Emailing Tools
Scripts (Large Group Games Only)
Cast Materials (Large Group Games Only)
Team-Building Features (Available only in Team Building version)
Facilitator's Instructions
Team Assignments Tools
Team Building Activities
Table Tents
Team Building Tips and Suggestions
Questionnaires and Team Review Tools
Awards
Murder Mystery Reviews
It was a fun party. The characters and costumes made it a lot of fun. With record players, hippie decorations, AND candy and sodas from the 60s, the theme worked out great. However, I found it difficult to plan the party. I feel like the layout was very confusing. For example, in round 3, I had a very difficult time trying to figure out who spoke after who. I also couldn't edit the PDF which became very frustrating and forced me to make a Word document. And some characters (i.e. Francis and Stone) should have played a bigger role. Those two characters did not seem to have a very important story and I feel as though my friends playing those characters missed out on some of the excitement. I don't want to discourage anyone from purchasing this game. I just think there are a few flaws that need repair. Over all, the experience was so great! We all had a ton of fun.
Janelle H. - Washington State
Tuesday, February 05, 2013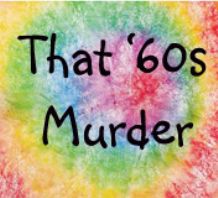 Game Information
Game Categories