'Death and the City' Game Synopsis
8 to 10 female guests
Carrie Baggs and her friends are heading for a night out at the opening of Drew Picture's 'Well Hung Gallery'. The girls will all be wearing their party best and there are rumors of an impromptu performance by top rap artist Essanem. What could possibly go wrong on such a star studded night. An all girls murder mystery for 8, 9 or 10 players.

Join Carrie Baggs and her friend for a New York night out at the opening of Drew Picture's new art gallery. A high fashion night of fun for girls only (For 8, 9 or 10 female players)

Also available in: Teen Girl Version

>> Characters
>> Sample Game Materials
>> Party Theme for This Game


Register for this Game
Registration is free, but you will need to purchase to see the materials:

Contents
Host Instructions
Guest Instructions
Character Descriptions
Character Motives
Game Clues
Print-able Invitations
Email-able Invitations
Invitation Tracking
Name Tags
Pre-Game Clues
Suggested Recipes
Tips from Other Hosts
Bulk Emailing Tools
Scripts (Large Group Games Only)
Cast Materials (Large Group Games Only)
Team-Building Features (Available only in Team Building version)
Facilitator's Instructions
Team Assignments Tools
Team Building Activities
Table Tents
Team Building Tips and Suggestions
Questionnaires and Team Review Tools
Awards
Murder Mystery Reviews
This was a group of women on a ladies weekend on a yacht in the Bahamas at the Atlantis. We laughed so hard, the characters were so funny! While some of the clues didn't really give much information that helped us solve anything, it was a great night. The rapper character was the best and we laughed so hard we were in tears. We were a range of women from 33 to 70 and everybody got really into it and came dressed for the part. Great time, I am looking to pick a second one already for a family reunion coming up.
MarieUnanue - Aboard the MiMu, Nassau Bahamas
Friday, May 01, 2015

This game was absolutely perfect for my girls only 28th birthday party! very sexy and scandalous and fantastic! None of us had participated in one of these before so it was a great introduction to the concept! :D EVERYBODY is asking when the next one is!! Thanks for helping me win our groups PARTY OF THE YEAR award!
Tiffany G. - South Australia
Wednesday, October 24, 2012

We had the best night ever ! 8 good female friends celebrating a 50th birthday. We laughed SO much our faces ached. Everyone entered into the spirit and dressed as their characters.
Jennie S. - , uk
Sunday, June 10, 2012

At first, no one knew what to expect about playing a Murder Mystery game, but we were excited about doing something new and different. We had props, good food and drinks and everyone came dressed in character, which made it totally awesome! Pretty good script with great come back lines. We are looking forward to the next one!
Tonya W. - Cincinnati, Ohio
Tuesday, May 01, 2012

This game was fantastic! We all had so much fun and the characters were hilarious! Everyone stayed in character all night and we had lots of fun with the ''well hung'' gallery theme! You can imagine the type of pictures we had on display! All of my friends have gone away raving how good the night was as none of us had ever done anything like this before! It will def become an annual theme for my birthday! The only thing i would say is make the food as simple and easy to serve as possible as the game is quite involved and as host aswell as being a character it was quite a challenge! I also had my sisters boyfriend come along for the first hour as ''butler'' serving cocktails to all the girls and then ''police detective'' to announce the murder! He did a fantastic job and really helped to kick the evening off! After that it was really easy just handing out the clues during each round and then getting everyone talking about who they think ''dunnit'' at the end of each round. I did prizes, little bottles of champagne, for best sleuth, best performer and best costume and the girls loved it and we also did goody bags as it was a gallery opening with things like chocs and shot glasses etc in. Everyone had a really fab night so thank you to host party for such a good game!
Alicia P. - , England
Saturday, March 03, 2012

This was a great time for a Women''s Night Out. The ladies really got into their characters and dressed the part to the hilt!!! What fun we all had laughing at each other as we portrayed our characters... I have done two of these murder mysteries and plan on doing Death by Chocolate next!
Judy B. - Clayton, NC
Monday, January 23, 2012

I thought this game was really good and it worked well with just the ladies, we all had a good night as well as a good laught, very pleased that the game worked out really well.
Tracey B. - , United Kingdom
Monday, August 22, 2011

We had alot of fun with this game. It is great for a Girls Night Out if you don''t mind innuendo. No one in our party guessed the murderer.
Angie L. - Maryville, TN
Wednesday, August 17, 2011

This was a hysterically fun and funny game. A bit risque, although perfect for our group. We had all 10 characters cast after a bit of last minute rearranging. After several rounds, impromptu comments were popping out from all the cast.
Susan W. - Maumelle, AR
Tuesday, January 11, 2011

We did this mystery as an all ladies Christmas Party. The murder mystery was the entertainment for the party. Out of the 25 guests, 10 were characters. We had a husband greet the guests in a tux. Another husband served a martini to everyone as they entered. Then the boys left. The party started. We started with lasagna,caesar salad, garlic toast as our meal. Then Carrie was found and the fun began. I had all of the clues in individual envelopes for each session and handed out the first seven at the beginning of the evening. I did not had out the final round until after everyone wrote down their guess. We did 3 sessions first and then had a 15 minute break. At this time Iona Rabbit did a demonstration of her sex shop items. We carried on until the 7th was finished. Then we had everyone write down their guess as to who the murderer was. The 4 that guessed right had their names put into a hat and we had a gift for the winner. We also gave a gift to the best actress. Everyone came in character and were just wonderful. This was so much fun and we had rave reviews from all who attended. At the end we had a gift exchange from under the tree so everyone went home with something. I would definitely recommend this one to a fun group of women. P.S. We had a rehearsal a week earlier just so everyone was comfortable with what we were doing. I did not let them have the solution round until the actual party so only the murdered knew who she was. Thanks. Linda & friends
Linda M. - Kelowna, B.C. Canada
Monday, December 27, 2010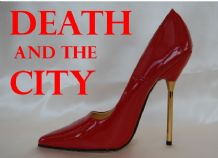 Game Information
Game Categories