'Murder at Spooky Castle' Game Synopsis
8, 9 or 10 guests
Join Sue Perr-Nattrell and the cast and crew of top TV show 'Really Haunted' as they stage a grand feast in the Great Hall of Spooky Castle. Who knows what apparitions and spectral visitors they might have. Could the night end in tragedy for one of the guests as they try to spend the evening in one of the most haunted rooms in the Castle? A hauntingly spooky murder mystery set in an 11th century English Castle for 8, 9 or 10 players. Great for Halloween.

A spooky murder mystery game for 8, 9 or 10 players set at an 11th Century Castle where an episode of the TV show 'Really Haunted' is being filmed. Great for Halloween.



>> Characters
>> Sample Game Materials
>> Party Theme for This Game


Register for this Game
Registration is free, but you will need to purchase to see the materials:

Contents
Host Instructions
Guest Instructions
Character Descriptions
Character Motives
Game Clues
Print-able Invitations
Email-able Invitations
Invitation Tracking
Name Tags
Pre-Game Clues
Suggested Recipes
Tips from Other Hosts
Bulk Emailing Tools
Scripts (Large Group Games Only)
Cast Materials (Large Group Games Only)
Team-Building Features (Available only in Team Building version)
Facilitator's Instructions
Team Assignments Tools
Team Building Activities
Table Tents
Team Building Tips and Suggestions
Questionnaires and Team Review Tools
Awards
Murder Mystery Reviews
Great game with an ending no one saw coming! Every person enjoyed this party. I would strongly recommend this game for any age group. Nothing too kiddie or dirty at all. It took us about 4 hours to complete as we all got into shouting matches frequently, accusing one another of being the killer, it could have been much shorter. All in all it was a very enjoyable evening.
KyleHacking - Gilbert, Arizona
Wednesday, October 26, 2016

This party rated an 11 on a scale of 1 - 10! Everyone said this was the best party yet and I have hosted upwards of 20 different parties. Having 8 rounds allowed for plenty of interaction between the characters and room for accusations and denials. The clues were timely and well thought out to add to the discussion. On the whole, an excellent party.
Nancy J. - 2566 Glen Drive, New Smyrna Beach
Wednesday, November 13, 2013

We enjoyed the games and everyone had a great time. I had a couple of last minute cancellations and had to fill those required positions. I ended up having to create a couple of characters and that was time consuming. It was very enjoyable and we plan on having another party in the future.
Brenda W. - Amarillo, Texas
Friday, November 04, 2011

well what a night! lots of fun and many twists and turns,the concept of a murder mystery centered around ghosts/hauntings/and a TV show is brilliant. there is lots of opportunity to dress up and get involved with having some fun.you will enjoy all the characters. this is a great M.M. for 10 adults as all were involved. if you can actually find a spooky castle to hire out it would be even better.
Brian M. - burton on trent staffordshire uk
Wednesday, July 07, 2010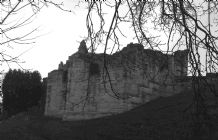 Game Information
Game Categories