'Death by Chocolate (Women Only)' Game Synopsis
8 - 12 Women (18 and over)
A joint party is being held at Thornbury's Chocolates to launch the new range of Symphony Chocolates and also to celebrate the 40th birthday party of Shopin Channill (That's pronounced Show-pan) who is the daughter of Thornbury's owner Cocoa Channill. What could possibly go wrong on such a happy night?

A chocolatey murder mystery for 8 to 12 women set at a new product launch party. Great for hen parties or any all girls night.



>> Characters
>> Sample Game Materials
>> Party Theme for This Game


Register for this Game
Registration is free, but you will need to purchase to see the materials:

Contents
Host Instructions
Guest Instructions
Character Descriptions
Character Motives
Game Clues
Print-able Invitations
Email-able Invitations
Invitation Tracking
Name Tags
Pre-Game Clues
Suggested Recipes
Tips from Other Hosts
Bulk Emailing Tools
Scripts (Large Group Games Only)
Cast Materials (Large Group Games Only)
Team-Building Features (Available only in Team Building version)
Facilitator's Instructions
Team Assignments Tools
Team Building Activities
Table Tents
Team Building Tips and Suggestions
Questionnaires and Team Review Tools
Awards
Murder Mystery Reviews
It was a lot of fun. Lots of clues and work putting them together. I think I would print the clues first go through them and then set rest of party up. I had a great time with Choco Channill. I ended up preparing a home made movie on my webcam computer. It was hilarious. Everybody got involved and asked lots of questions. The help I received from support was absolutely fantastic as well. Thank you for all your efforts. Elaine C.
ElaineCossette - #108, 4210 - 20th Avenue South
Saturday, June 14, 2014

Great fun, I hosted the Chocolate to die for murder mystery, it was sooo much fun and pretty easy to do. I loved the questions/clues and enjoyed seeing my guests have fun. The only thing I would have done differently, was to possibly let the guests see a few of their clues prior, it was a lot of reading during the party, maybe letting some clues goes pre-game would eliviate this.
Kimberly R. - 1825 Yount Circle/LAFB
Friday, August 30, 2013

This was a fun party. It was my sister's 50th birthday so we changed the clues from a 40th birthday to 50th. We had a chocolate bar with lots of different kinds of chocolates and a chocolate fountain. Most of which I got for 50% off after Christmas. I added 2 more chocolate games and all the prizes had something or said something about chocolate. (check ebay). The winners who guessed the murderer won a chocolate bar arrangement. I also gave out prizes for Best Costume and Best Actress. I went to party store and bought trophies and put an arrangement of chocolate roses in it. I also found chocolate tote bags at Michaels Store to put the prizes in. For our menu, we had Mole (made with Mexican chocolate, refried beans, rice, and salad. For dessert, Death by Chocolate birthday cake. We served chocolate mint tea and chocolate truffle coffee.We hung a sign out front that said Thornbury's Chocolates. We had 3 tart warmers burning with chocolate truffle scented tarts burning to smell like chocolate factory. We added "Detective Rolo" who collected evidence, did fingerprint analyzer, and made arrest. We also added a character named Nikki Nikon. She was our photographer. Our party took about 3 hours.
Melinda M. - Monrovia, California
Thursday, January 24, 2013

We played Death by Chocolate in the virtual world of Second Life. It was great - friends from Europe and North America gathered for an afternoon and evening of fun, role-playing, and socializing. I highly recommend it:) Oh, and our group picture... http://www.flickr.com/photos/bourbie_doll/4653726799/
Bourbon Z. - Second Life
Wednesday, May 30, 2012

WE PLAY THE GAME "DEATH BY CHOCOLATE" ON FEB 20/2010 .THERE WAS 13 OF US LADY`S AND WE HAVE A BLAST WITH THIS GAME.THERE WAS 13 CHARACTERS AND 1 PLAY A OFFICE AND SHE WAS GREAT.IF THIS IS YOUR FIRST TIME PLAYING PICK THIS GAME AND THE NEXT TIME YOU WILL BE READY TO PLAY A MORE DRESS UP GAME .I WILL BE LOOKING TO GET ANOTHER GAME FOR US LADY`S TO PLAY . THANK YOU SO MUCH FOR A GREAT GAME. DEBBIE
DEBBIE C. - ,TORONTO,ONT
Tuesday, February 21, 2012

Oh My Goodness, loved this mystery!!! I moved into a wonderful neighborhood whereas each month one of the residents host a Ladies Night. Well, each month we do different things, games etc. So, I decided to step it up and host a murder mystery. I was amazed at how in character everyone became. These parties are perfect for getting guests to mingle. I turned my home into a literal chocolate day spa...each guest was pampered with spa treatments all throughout the house (giving areas for theme to scheme), everyone made the homemade chocolate bubble bath and were sent home with godiva gift chocolates....Amazing. Well, it is January again and I have decided each year I will commit to the same theme...looking now for another good mystery!! Thanks a million....the ladies are still talking about it!
JenniMac - Virginia Beach, VA
Monday, January 09, 2012

We had a blast with this party. We decorated in Fall colors for Shopin''s 40th birthday party. We served Chocolate Martini Smoothies - non-alcoholic of course since it was a few girls from church getting together---everyone brought a dish, we had a fondue pot as well. I made everyone name tags and paper-clipped them to the goodie bags (which were filled with tons of great chocolate, a pen and a tablet for note taking). Everyone really got into their parts and dressed the parts as well. I edited the clues so that the murderer did not know who they were until the 8th round. Great for a Girls Night Out!
Michele Y. - Rocky Mount, VA
Sunday, November 20, 2011

This was so much fun! But...... Be sure you read the clues in advance and organize them for your guests! Also, be prepared in case some of your guest are "no shows". I ended up playing 3 parts. It was fun, but a little confusing when asking the questions as to which character was asking them. All in all, it was great fun!
Terri M. - Odessa, Tx
Wednesday, November 02, 2011

I had a good time. I have seen these mystery parties on TV. You did a wonderful job to plan and put all the paperwork together. A good time was had by all. Mary
Mary C. - ODESSA TX
Tuesday, November 01, 2011

My Extension Homemakers club played this game and we laughed so hard. I gave each one a bag filled with the clues and an ink pen and note cards. I used a yellow and black color theme and everyone had a great time.
Jennifer - , Kentucky
Thursday, July 14, 2011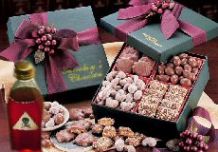 Game Information
Game Categories