'Murder in the Wild West (Teen)' Game Synopsis
8 to 14 Guests
Sheriff T. Pott is due to join the lavish party being thrown at the Last Chance Saloon, when shots ring out and the Sheriff falls dead from the balcony. Host your own party to find the answer to 'who shot the Sheriff'.

Join the guests at Lil's Last Chance Saloon in Dodgy City for an evening of fun and laughter. Now that Marshall T. Pott has cleaned up the town what could go wrong. A wild west adventure for 8 to 14 players.



>> Characters
>> Sample Game Materials
>> Party Theme for This Game


Register for this Game
Registration is free, but you will need to purchase to see the materials:

Contents
Host Instructions
Guest Instructions
Character Descriptions
Character Motives
Game Clues
Print-able Invitations
Email-able Invitations
Invitation Tracking
Name Tags
Pre-Game Clues
Suggested Recipes
Tips from Other Hosts
Bulk Emailing Tools
Scripts (Large Group Games Only)
Cast Materials (Large Group Games Only)
Team-Building Features (Available only in Team Building version)
Facilitator's Instructions
Team Assignments Tools
Team Building Activities
Table Tents
Team Building Tips and Suggestions
Questionnaires and Team Review Tools
Awards
Murder Mystery Reviews
I used the Murder in the Wild West (Teen version) my our daughter''s 14th birthday. I think the storyline was good and the kids enjoyed themselves. However, I did spend a lot of time printing out the clues and stuffing them into envelopes. I think that if they sell ready-made kits at a reasonable price, it would be a great improvement to the game. Overall, i still rate this game as excellent because I think the storyline and characters were interesting.
Monica S. - Illinois, USA
Tuesday, May 29, 2012

We played this for a youth party with our church. Several of the youth were unable to come so we had to substitute some of the roles with adults. Overall, everyone enjoyed the game. It would have been more fun if everyone would have been in costume and stayed in character during the entire game. Also, we played this outside and it was easy to decorate. We served hot dogs (roasted over a fire) chili and cheese dip. As well as chips and s''mores. We served drinks in the saloon. The drinks were glass bottles of root beer and cream soda.
Robyn T. - , Oklahoma
Wednesday, November 02, 2011

LOTS OF FUN AT THE SPECIAL BIRTHDAY PARTY... FUN WAS HAD BY ALL IT LOOKS LIKE!....go K-STATE~~~!!!!!!!
Gloria
Tuesday, October 25, 2011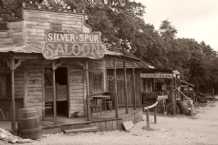 Game Information
Game Categories