'Death of a Wizard' Game Synopsis
8 - 14 Guests
The night is 31st October and the cream of the world of witches and wizards are gathering at the studios of WIZ TV in Magic World for the Merlins, the fifty first annual awards of the Academy of magic. The ceremony will be presented as usual by Wizard Oscar Winner, the founder and owner of WIZ TV and the creator of the Merlins. Oscar will be joined on stage by his lovely wife, Witch Enva Lope, who will co-present the glittering awards. So put on your best evening robes and see who's walking down the red carpet for a night they will never forget. What shocks await the magical audience?

A murder mystery game for 8 to 14 players set in the magical world of witches and wizards. Join Wizard Oscar Winner and Witch Enva Lope at the fifty first Academy of Magic Awards and see who wins one of the coveted Merlins. Ideal for a Halloween Party.



>> Characters
>> Sample Game Materials
>> Party Theme for This Game


Register for this Game
Registration is free, but you will need to purchase to see the materials:

Contents
Host Instructions
Guest Instructions
Character Descriptions
Character Motives
Game Clues
Print-able Invitations
Email-able Invitations
Invitation Tracking
Name Tags
Pre-Game Clues
Suggested Recipes
Tips from Other Hosts
Bulk Emailing Tools
Scripts (Large Group Games Only)
Cast Materials (Large Group Games Only)
Team-Building Features (Available only in Team Building version)
Facilitator's Instructions
Team Assignments Tools
Team Building Activities
Table Tents
Team Building Tips and Suggestions
Questionnaires and Team Review Tools
Awards
Murder Mystery Reviews
I hosted this game with a group of Florida Floozies (a women's camping group in Florida) and it turned out way better than expected. I've hosted a New Year's Eve Murder Mystery for the past 5 years and liked this one the best. This is the first "all scripted" with questions and answers that I have done, all really loved it! I would highly recommend this game.
Mary S. - Blue Springs State Park Site #29
Friday, October 30, 2015

We had 14 guests come over for the ''Death of a Wizard'' Murder Mystery and everyone had a wonderful time. Every character was represented and I loved the fact that everyone had clues and questions to ask of each other. We''ve tried other Murder Mystery companies and unless you were a suspect and a required character, your involvement was really limited. But not with this one... ...All in all EVERYONE had a WONDERFUL TIME!!!
Elizabeth H. - Chesapeake, Va. USA
Wednesday, March 30, 2011

Another excellent game, great mix of characters, highly recommended, buy now you will not be dissapointed.
Val M. - Next to the Mortal Portal
Wednesday, May 20, 2009

This is a great game that can be played all year round, excellent content, lasted about the right time, really good fun, several twists, great mix, I did not guess the murderer! it foxed me. I have played many murder games, I can say that the games from this writer just keep getting better. Highly Recommended, EXCELLENT 10/10****************
Ian M. - Central England
Wednesday, May 20, 2009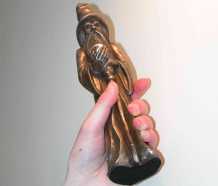 Game Information
Game Categories