'Love Potion Number Five' Game Synopsis
8 - 16 Guests
It's everybody's worst nightmare: somebody has spiked the party punch with a potent love potion. Thankfully, the victims of the potion are not declaring undying love for anybody at the party. Instead, they are emphatically revealing the thing they would most love to do- their secret passion. Soon these comical admissions become dangerous as the affected guests stop at nothing to act on their obsession. The guests must discover who spiked the punch, concoct and administer the antidote before somebody bruises something worse than an ego!

A party perfect for any combination of younger kids and teenagers. Up to 16 guests can play any character. Great for Valentine's Day!



>> Characters
>> Sample Game Materials
>> Party Theme for This Game


Register for this Game
Registration is free, but you will need to purchase to see the materials:

Contents
Host Instructions
Guest Instructions
Character Descriptions
Character Motives
Game Clues
Print-able Invitations
Email-able Invitations
Invitation Tracking
Name Tags
Pre-Game Clues
Suggested Recipes
Tips from Other Hosts
Bulk Emailing Tools
Scripts (Large Group Games Only)
Cast Materials (Large Group Games Only)
Team-Building Features (Available only in Team Building version)
Facilitator's Instructions
Team Assignments Tools
Team Building Activities
Table Tents
Team Building Tips and Suggestions
Questionnaires and Team Review Tools
Awards
Murder Mystery Reviews
This game was pretty entertaining, we played with a group of 14 people who are all in their 20''s or 30''s. Instead of being teenagers in present time we were teenagers in the 80''s, which added a whole other element of cheesy fun to the game. I did have to adjust some of the characters to be appropriate for the 80''s but it all turned out pretty well and everyone had fun. I was the host & thought it was extremely helpful for me to go into the game knowing who did it, I would also say that it would have been a little easier to play the game with about 6 less people because with 14 there was ALOT going on & some of the info was missed because of that. Some of the characters were a little bit confused about how the clues read as well but all in all it was a success. We would definitely play another mystery game again!
Ursula - Anchorage, Alaska
Wednesday, March 28, 2012

Played this with our homeschool group, a wide variety of ages, both adult and children. This was a great "first" mystery party game. We added some extra characters, and had I personally been better organized, it would have been truly perfect. As it was, everyone wants to do another mystery this year and one teen exclaimed to me this was the best event our group has ever done. This paticular story was hilarious fun and harmless, well put together, and had great flexibility. I highly recommend it, especially if you have a group wanting something without murder or without innuendo or adult themes.
Lori D. - Southwest Georgia
Friday, January 20, 2012

I had my daughters 13th birthday party this weekend. WE used all the characters in Love Potion Mystery - the girls all had a ton of fun. The party mystery lasted almost 1 1/2 hours - as the girls wanted the clues fast... THe only suggestion I can give - is Parents when you have this many girls in your home - get ear plugs - it got very loud.... Thank you for a fun night.
Sydney E. - Calgary, AB
Thursday, May 06, 2010

super fun
Hailey N.
Tuesday, March 23, 2010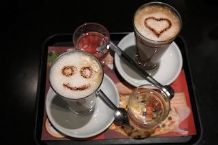 Game Information
Game Categories