'Death Before Dinner' Game Synopsis
6 - 8 Guests (including Host)
Here's a chance for you and your guests to play a classic whodunnit...full of twists and fun. It had been planned as an intimate dinner party for eight. Lady Fanny's guest list was small, but all were members of society: Hon. and Mrs. Charles Ruskin (Lord and Lady Ruskin's son and daughter-in-law), The Duke and Duchess of Wollingford (Lady Fanny's sister and brother-in-law), Captain and Mrs. Middleton (long-time friends of Lord and Lady Ruskin) and Lady Fanny and her husband Baron Ruskin. Fanny had planned for everything...except for the discovery of a very dead body just before she, her husband and her guests were about to sit down to dinner. With fully scripted clues and recipe suggestions for a Regency meal this is the perfect chance for first-time mystery players to have an elegant yet mysterious evening!

Traditionally, it's always the butler who did it. It can't be the butler this time - he's the one who's dead! This puzzling mystery is set at an English Regency country manor.



>> Characters
>> Sample Game Materials
>> Party Theme for This Game


Register for this Game
Registration is free, but you will need to purchase to see the materials:

Contents
Host Instructions
Guest Instructions
Character Descriptions
Character Motives
Game Clues
Print-able Invitations
Email-able Invitations
Invitation Tracking
Name Tags
Pre-Game Clues
Suggested Recipes
Tips from Other Hosts
Bulk Emailing Tools
Scripts (Large Group Games Only)
Cast Materials (Large Group Games Only)
Team-Building Features (Available only in Team Building version)
Facilitator's Instructions
Team Assignments Tools
Team Building Activities
Table Tents
Team Building Tips and Suggestions
Questionnaires and Team Review Tools
Awards
Murder Mystery Reviews
This is a great one for beginners or for people who are a little shy (this is scripted even though it says it isn''t). The host definitely needs to help out a bit because the order is a bit confusing. We had a great time and it was definitely tricky enough that we had several opinions on "who dun it" at the end!
Anna - Greenwich, CT
Thursday, October 13, 2011

This my second murder mystery and if it is as much fun as the first look out!!!!!!!!!!!!!
Keryn B. - Morgan, South Australia
Saturday, July 02, 2011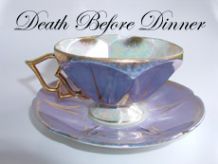 Game Information
Game Categories