'I'm Dreaming of a Red Christmas: a Christmas Mystery' Game Synopsis
over 15 Guests (18 and over)
Residents of the North Pole are accustomed to keeping secrets. They swear never to disclose the location of Santa's Workshop, and they keep Santa's identity anonymous. A Santa Claus serves for a term. When he retires, he appoints his successor. Most retired Santas then leave the North Pole and travel the world with their spouses. The current Santa showed no signs of retiring. In recent years, he bewildered the sweet Pole folk with what can only be described as "poor choices;" he even bordered on being bad-listed! Somebody decided that enough was enough and laced his eggnog with poison at the Annual Christmas Eve party. His death comes as a guilty relief to most, but now there's no Santa to deliver the gifts at midnight. The Pole Folk must discover the killer, in order to convince someone else to step up to be Santa and save Christmas! For once, the North Pole has a secret that is too big to keep.

A scripted Christmas mystery set on Christmas Eve, at the North Pole.



>> Characters
>> Sample Game Materials
>> Party Theme for This Game


Register for this Game
Registration is free, but you will need to purchase to see the materials:

Contents
Host Instructions
Guest Instructions
Character Descriptions
Character Motives
Game Clues
Print-able Invitations
Email-able Invitations
Invitation Tracking
Name Tags
Pre-Game Clues
Suggested Recipes
Tips from Other Hosts
Bulk Emailing Tools
Scripts (Large Group Games Only)
Cast Materials (Large Group Games Only)
Team-Building Features (Available only in Team Building version)
Facilitator's Instructions
Team Assignments Tools
Team Building Activities
Table Tents
Team Building Tips and Suggestions
Questionnaires and Team Review Tools
Awards
Murder Mystery Reviews
We chose this game for our office holiday party. As we hoped, we had plenty of volunteers for the cast characters. We utilized the email invitation and sent a number of pre-game clues to the guests. The script gave us lots of room to be creative and we sent out weekly news flashes from the North Pole Inquirer to build momentum for the office party. We also purchased a number of props from one of the party web sites to decorate the walls of the party room with the feel of Santa's workshop. The guests arrived ready to solve the mystery. The cast lost all apprehension and played their roles magnificantly. It was the best office holiday party ever! I don't think the next year's holiday party committee will be able to top this one!
Cynthia S. - Murrieta, CA
Tuesday, February 02, 2010

We had a FABULOUS time with this party! The unexpected part of this party was that EVERYONE on the staff and their guests wanted a "part". So we made up parts for 42 people to participate. It was great fun, ALOT of work...but big fun! The payoff was lots of laughs at the party, and a party that everyone was still laughing about in the days that followed. We've never had a store party that everyone was talking about in the weeks leading up to it. Folks were comparing costume ideas and curiosities about just how this "game" worked. Our staff ranges from the ages of 16-82 (and this worked perfect for all ages). We had guests that have come to our parties for years who've never talked, but this year not only mixed and mingled but laughed and carried on. We took the written parts and divided those up and then scripted the other guests. It was so fun to "make up" guests that were similar to their actual position at work. We even had the holidays and fictional characters attend b/c they were upset with Santa b/c he gets all the glory. (the costumes were WONDERFUL....the Tooth Fairy was my favorite) Those folks were making their cases that their holidays should be more important. We created a "detective" role and that person went from guest to guest during round 2 asking every guest for their alibi from 6 hours ago and why they should be voted the next Santa. It was a riot to hear the alibis that folks came up with. Santa returned to the party as the ghost of Santa and continued to work the crowd. What a blast! And the best part is that everyone got to participate in one way or another. We had this story take place at a restaurant at the North Pole and decorated the hall we rented to look like a casual dining restaurant. The dinner was a pitch in which worked out well too. Three of our "characters" were the wait staff at the fictional "The North Pole's....La Lorna's Restaurant....a fine dining experience"...
Akard's - Zionsville, IN
Friday, December 04, 2009

This was a great story! We held this mystery during our annual Christmas Party for our small veterinary hospital. We wanted something different and to appeal to all ages, as we employee 17 people from age 17 to 56. This was a great story, especially since it dealt with animal rights (Yule, the reindeer keeper) We had so much fun. Participants really got into their roles with costumes and such. We ad libbed alot, but that made it more fun and relaxing. We broke up the staff into "preselected" groups (a team building exercise, they didn't even know it)to try and solve the mystery. It was interesting on the variety of answers we got and it kept the whole group together instead of separating into "cliques". We did have to eliminate the role of the Ab.Snowman and our "Santa" unfortunately had a family emergency and could not attend the party. We just pretended he was outside, flirting with Mother Nature. All in all, it was a fun event and the whole staff enjoyed it!
Audrey - Gilbertsville, PA
Thursday, January 15, 2009

The game was very good. All the guests had good things to say. Although the script was short, it was perfect for a Christmas Party where you need time for other things such as opening presents or other games in between scripts.
Willie A. - Arlington, VA
Monday, December 22, 2008

This was a great way to celebrate Christmas with our staff. They surprised us and all came dressed in character. I did include a few "extra" characters and told them to "ad-lib" when they wanted to and it worked out fine. I played Santa until he "died" and then changed into "Maria", his Chambermaid. No one guessed the mystery but it all made sense to us at the end. Our staff told us it was our "BEST PARTY YET."
Hope S. - Carlsbad, California
Sunday, December 21, 2008

This was a really fun game. I was looking for something light-hearted this time of year. I always have some sort of murder-mystery party in December, but I could never find a Christmas themed party that fit the bill. The classic "Christmas Characters" were amusing. The plot is pretty straight forward, and when the solution is revealed it's simple and makes sense...yet NONE of my guests figured it out, yet they all had a great time. I will look at some of the other mysteries created by this author. It's really fun and lots of laughs, so I'd highly recommend it. (Note: I didn't realize this was a "scripted" mystery for a large group at the time, but I simply made a few changes and seperated the script into individual clues and the party still worked out fine). Thanks for a fun evening!
Dennis P. - Edison, NJ
Wednesday, December 10, 2008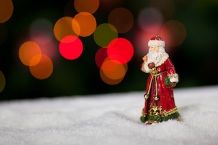 Game Information
Game Categories