'Death by Chocolate' Game Synopsis
8 - 12 Guests (18 and over)
A joint party is being held at Thornbury's Chocolates to launch the new range of Symphony Chocolates and also to celebrate the 40th birthday party of Shopin Channill (That's pronounced Show-pan) who is the daughter of Thornbury's owner Cocoa Channill. What could possibly go wrong on such a happy night?

A chocolatey murder mystery for 8 to 12 players set at a new product launch party. Great for Valentine's Day or couple parties.

Also available in: Female Only Version | Teen Girl Version | Teen Version | Large Group Version

>> Characters
>> Sample Game Materials
>> Party Theme for This Game


Register for this Game
Registration is free, but you will need to purchase to see the materials:

Contents
Host Instructions
Guest Instructions
Character Descriptions
Character Motives
Game Clues
Print-able Invitations
Email-able Invitations
Invitation Tracking
Name Tags
Pre-Game Clues
Suggested Recipes
Tips from Other Hosts
Bulk Emailing Tools
Scripts (Large Group Games Only)
Cast Materials (Large Group Games Only)
Team-Building Features (Available only in Team Building version)
Facilitator's Instructions
Team Assignments Tools
Team Building Activities
Table Tents
Team Building Tips and Suggestions
Questionnaires and Team Review Tools
Awards
Murder Mystery Reviews
WOW! We just had a blast with this...had 5 great couples join my wife and I and we added a couple of neat twists. Our son, along with his best friend, acted as Cocoa and a made up Officer (Officer Dove)were a riot at the beginning to get the show started...after Cocoa collapsed, Officer Dove chalked the body, took mug shots and gathered fingerprints for the fingerprint analyzer...then the fun really began, all the while feasting on treats like Death By Chocolate, we starting grilling each other. We made folders for each player and then before the 8th round, we all checked the "Mobile" Fingerprint Analyzer and then gave our thoughts on the who was the killer and why! Then we each read our solutions in order until the murderer confessed...NO ONE GOT IT RIGHT! But it was so much fun...we then had a mini Tony Award celebration for the Best Actor and Best Actress...the winners received...you guessed it...a Deluxe Box of Chocolates. Great night...highly recommend this!
Cindy R. - 23422 Trophy Lane in Katy, Texas
Tuesday, February 12, 2013

It was a lot of fun, especially after I customized it to fit my group. It was a little difficult to direct the flow of the conversation at times. Organizing each round so that related characters' comments are together would help a lot. I found it necessary to add a lot of extra clues so that the murdered wasn't obvious. I chose not to let the culprit know he was guilty until Round 8. The chocolate theme was great for desserts and guest gifts. I've participated in several murder mysteries and this one was great. This site is excellent. It provides lots of tips and allows for customization. I'll definitely be using Host Party again.
Drema H. - Monroe, NC
Tuesday, October 23, 2012

Bill & Chantal were the hosts for this event on 7/9/10. 12 players participated and the costumes and preparations were exquisite. "Death By Chocolate" was our story. Much animation ensued and participants were so much into "character" that we forgot who we really were for a while. The improvisation on its own was superb with guests coming up with "lines" that their character might put voice to. The emotions also climbed into a crescendo and flowed like an orchestra conductor''s baton leading the way. The veracity became palpable as the vitriolic tone of each participant accusing another of murder by poisoning. You might have felt that some guests might come to blows if you were viewing the event without knowing what''s up. All in all, each guest invested much time and intensity to contribute to a highly successful team effort lead by our wonderful hosts, Bill & Chantal, who lead the way with an exquisite setting and dinner with diligent preparation. Jack Roddy (Troy Softcentres)
Jack R. - Phila, Pa
Tuesday, July 10, 2012

This party was so much fun for me and my friends!!! We had a blast, yo should definately consider this idea for your next party!
Hannah N.
Sunday, May 20, 2012

We had a great time at our party. We laughed a lot and we all said this was by far the easiest of all the Murder Mystery games we had played. We just didn''t realize that if you only chose 8 players you still had to play the other that you didn''t choose even though they weren''t required characters. Other than that, Best Game I have bought yet!!
Deborah P. - Morrisville, VT
Thursday, March 08, 2012

I had a LOT of fun with this game!!! I had a group of 8 people perform it to an audience of 80! We broke up the mystery into 5 acts, and in between each "act," everyone ate appetizers and desserts, and the cast mingled with the audience. My friends are great actors and they did a terrific job. It was an excellent event! For Round 8, we turned off all the lights in the house, and we shone a light into the face of each cast member as they delivered their clue. We turned all of the lights on again as the murderer uttered the word "Cyanide." It was a GREAT party!!!
Jessica N. - Virginia
Monday, January 30, 2012

We played Death by Chocolate as the centerpiece for our family holiday party. Since everyone in attendance were adults, the clues with "mature" content worked out fine. We did the whole party with a chocolate theme from chocolate martinis to chocholate spread on toast as an appetizer! Everyone got into character and had a lot of fun.
DeDe D. - Southern California
Monday, December 26, 2011

Perfect for our group of 14 fifty-somethings. Everyone dressed in costume and really got in the spirit of the game. Your company was great - reasonably priced for supplied everything we needed. It was a great time! Thanks!!
Jen - Indiana
Tuesday, February 15, 2011

Enjoyed playing the game. We had lots of fun. Will buy from you again. Thank you.
Rebecca R.
Sunday, February 13, 2011

"Death By Chocolate" was the perfect theme for a party with couples. We tied it in with a Valentines theme and had everyone include something "red" into their costume. The game went smoothly which made all of the pre-game preparation worthwhile. Everyone really got into the spirit of the evening by dressing for their parts and giving each character their own personality. The finger print analyzer was great although I might have waited to use it closer towards the end of the game as many guest used it to mark suspects off of their lists early in the evening. We had fun selecting the music for the evening and even found a song named, "Death by Chocolate"! We all had a great time and look forward to doing it again sometime!
Gaye P. - Marietta, GA
Wednesday, February 10, 2010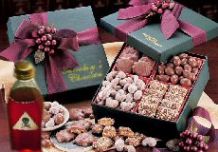 Game Information
Game Categories