'And the Winner is....Murder' Game Synopsis
6 - 8 Guests
Columbus Studios is throwing a party to celebrate their blockbuster hit "Back When I Loved You" and you are invited! Unfortunately, the big celebration goes disastrously wrong when one of the guests dies after drinking a glass of champagne. The murderer must be one of those present in the room who include two stars of the film, the movie's director, producer, costume designer and the studio's public relations manager... one of these people couldn't wait until tomorrow night for their dreams to come true. This game has the same characters as the scripted large-group mystery of the same name with the same victim, but a different murderer. Partially scripted clues make this game perfect for first-timers.

An evening of murder and movie intrigue loosely based on the scripted game of the same name. Show business can be deadly!

Also available in: Large Group Version

>> Characters
>> Sample Game Materials
>> Party Theme for This Game


Register for this Game
Registration is free, but you will need to purchase to see the materials:

Contents
Host Instructions
Guest Instructions
Character Descriptions
Character Motives
Game Clues
Print-able Invitations
Email-able Invitations
Invitation Tracking
Name Tags
Pre-Game Clues
Suggested Recipes
Tips from Other Hosts
Bulk Emailing Tools
Scripts (Large Group Games Only)
Cast Materials (Large Group Games Only)
Team-Building Features (Available only in Team Building version)
Facilitator's Instructions
Team Assignments Tools
Team Building Activities
Table Tents
Team Building Tips and Suggestions
Questionnaires and Team Review Tools
Awards
Murder Mystery Reviews
Love your costumes! What a fun party.My liltte guy was a chicken, so my husband and i dressed up like farmers. My daughter was going to be a horse, but saw the pegasus costume at Target and begged me for it. She didn't quite fit in with our farm theme, but what can you do.Happy Halloween!
Marcie - 9ECa6FnQ
Sunday, December 06, 2015

This was really fun for a first time group. We didnt give out all our clues ahead of time like some did, we just gave out the hidden information from each round. It helped people develop the characters. Everything went smoothly and even people who had never played before thought it was fun and easy. Thanks!
Jakki - University of Minnesota Duluth
Thursday, May 05, 2011

This is the second Murder Mystery party we have hosted and we had a great time! We had 10 players so some additions were necessary. I didn''t want to know the outcome of the game, so I blindly invented two parts and entertwined them with only the knowledge in the character discriptions. We expanded the script to include a twin sister to the victim, Eleanore Watkins, and a financial backer, Josephine Banks. Once I found out how to add the clues and info for the new chracters, it went very smoothly. Surprisingly, it worked out well!! We will do another one soon.
Phil . - Salmon, ID
Wednesday, January 05, 2011

This game was a great deal of fun, my guests really enjoyed it... ... we had lots of laughs, and really enjoyed ourselves.
Michelle A. - Wooster, OH
Monday, April 06, 2009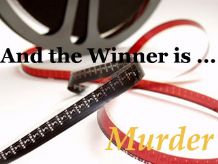 Game Information
Game Categories