'Death by Design' Game Synopsis
10 Guests
A party is being held to celebrate the end of the final day's filming of the latest episode of Changing Homes and Gardens. The party is being hosted by the Old Kent Television Company following the weekend makeover of Mr and Mrs Tipp's house by the C.H.A.G. team. The guest of honour will be the star of the T.V. show, interior designer Matt Finish. Everyone will be familiar with Matt's long flowing hair and flamboyant style, which have become his trademarks. (NOW WITH AN MP3 AUDIO INTRODUCTION)

A modern day murder mystery for 10 people set in the world of TV home makeover shows. (NOW WITH AN MP3 INTRODUCTION)



>> Characters
>> Sample Game Materials
>> Party Theme for This Game


Register for this Game
Registration is free, but you will need to purchase to see the materials:

Contents
Host Instructions
Guest Instructions
Character Descriptions
Character Motives
Game Clues
Print-able Invitations
Email-able Invitations
Invitation Tracking
Name Tags
Pre-Game Clues
Suggested Recipes
Tips from Other Hosts
Bulk Emailing Tools
Scripts (Large Group Games Only)
Cast Materials (Large Group Games Only)
Team-Building Features (Available only in Team Building version)
Facilitator's Instructions
Team Assignments Tools
Team Building Activities
Table Tents
Team Building Tips and Suggestions
Questionnaires and Team Review Tools
Awards
Murder Mystery Reviews
A very simple, straightforward game which involved little deduction, no intriguing alibis - ideal for beginners and the geriatric, but we had a great time. A sunny evening, excellent buffet and 14 players mostly well-used to ad-libbing all contributed! The props were easy: we drew an outline of the ''body'' on the ground and borrowed cones and tape, with a genuine bloodstained dibber. The balloons were labelled CHAG.
jan s. - West Yorkshire, UK
Saturday, August 27, 2011

We had great evening that was incredibly well organised by our hosts (this was important!). The names for the charcters were really good... It was great to have each session numbered and we all loved the letters. Altogether it was really good fun and we liked the twists and turns in the plot making it plausible that anyone could've done Matt Finish 'in'. Our hosts had arrange 'phone calls and had a 'body' on the patio outside as well as fantastic food and wine. BRILLIANT!
Janet R. - London,England
Tuesday, February 19, 2008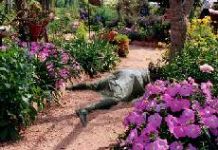 Game Information
Game Categories