'A Devilish Masquerade' Game Synopsis
At Least 5 Guests
By now the whole town has heard that Monty Argent, teen-aged son and heir of ridiculously wealthy Pierce Argent, is inviting kids who are, or pretend to be, his friends to an over-the-top Halloween costume party at the Argent's fabulous estate. This will certainly be the social highlight of the spooky season for all of the town's residents aged anywhere from 13 to 19: invitations are essentially tickets to popularity. As the party is under way, the scary special effects become truly terrifying, however, when their wealthy host is suddenly swallowed up, literally, by the giant devil-head set up as the "Mouth of Hell"! Was this a simple accident, a prank gone wrong, or perhaps attempted murder? A brief appearance by an adult hostess is built into the game to help set the scene.

A non-murder mystery game for at least 5 teens. A great choice as a Halloween party for teens, can be expanded to include an unlimited number of characters. A brief appearance by an adult hostess is built into the game to help set the scene.



>> Characters
>> Sample Game Materials
>> Party Theme for This Game


Register for this Game
Registration is free, but you will need to purchase to see the materials:

Contents
Host Instructions
Guest Instructions
Character Descriptions
Character Motives
Game Clues
Print-able Invitations
Email-able Invitations
Invitation Tracking
Name Tags
Pre-Game Clues
Suggested Recipes
Tips from Other Hosts
Bulk Emailing Tools
Scripts (Large Group Games Only)
Cast Materials (Large Group Games Only)
Team-Building Features (Available only in Team Building version)
Facilitator's Instructions
Team Assignments Tools
Team Building Activities
Table Tents
Team Building Tips and Suggestions
Questionnaires and Team Review Tools
Awards
Murder Mystery Reviews
This game was really fun!!!!!!!!!!!!! just make sure to tell your friends a little bit about their character. I made the mistake of not doing that and at some points in the game we all burst out laughing because of what happened. Don't tell the person that they did it it's much more fun to watch their face when they realize it was them!!!!!!!!!!!!!
Taylor M.
Wednesday, October 22, 2008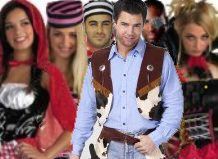 Game Information
Game Categories