'The Hip-Hop Murder' Game Synopsis
6 - 8 Guests
Hip-hop dance sensation Ashley LaRoche has just dropped dead on live TV. While appearing on the music video cable station Pop TV, chatting with VJ Gwen Dafoe, she suddenly fell to the floor, dead. Knowing a ratings windfall when she sees it, Gwen keeps the cameras rolling. She starts grilling the members of Ashley's entourage, convinced one of them has killed her. Gwen uncovers jealousy, bitterness and simmering anger with every turn. Each member of Ashley's entourage seems to have a dream of being the next Ashley LaRoche. One of them got tired of waiting.

The Hip-Hop Murder: Hip-hop superstar Ashley LaRoche has just dropped dead while doing an interview. Everyone believes they can dance as well as Ashley. Each girl will have an opportunity to perform her own hip-hop dance to prove her dancing ability. As the investigation unfolds, Gwen discovers that all the girls have one thing in common, they all believed they could dance as well as, maybe better than, Ashley. As different points throughout the investigation each girl will have an opportunity to perform her own hip-hop dance number to prove her dancing ability.



>> Characters
>> Sample Game Materials
>> Party Theme for This Game


Register for this Game
Registration is free, but you will need to purchase to see the materials:

Contents
Host Instructions
Guest Instructions
Character Descriptions
Character Motives
Game Clues
Print-able Invitations
Email-able Invitations
Invitation Tracking
Name Tags
Pre-Game Clues
Suggested Recipes
Tips from Other Hosts
Bulk Emailing Tools
Scripts (Large Group Games Only)
Cast Materials (Large Group Games Only)
Team-Building Features (Available only in Team Building version)
Facilitator's Instructions
Team Assignments Tools
Team Building Activities
Table Tents
Team Building Tips and Suggestions
Questionnaires and Team Review Tools
Awards
Murder Mystery Reviews
The girls really enjoyed the game. They were a bit stilted at first never having done anything like this but once round 1 was completed they were much more relaxed and conversation and action moved along much more smoothly. They enjoyed the dancing. It took a few hours to set up with setting up the envelopes, but I also included a Mug shot sheet and fingerprinted and photographed each character. My husband commented he didn't know who was going to enjoy the game more - my daughter or me! All of the girls said they enjoyed it and would love to do another one.
Mrs H. - County Durham United Kingdom
Tuesday, January 12, 2016

We had a spend-the-night birthday party and the game was a great hit. The girls had fun watching each other (attempt) to perform their dances. The game lasted for a good while and kept the girls' attention. This was our second host party, and we plan to do another one for her next birthday party, too!
Lynn a. - 107 Hudson Drive, Vidalia, GA 30474
Friday, February 15, 2013

This game works really well in a situation where many or all of the guests are new to mystery games, because the "story" is told in the form of the VJ character interviewing the rest of the cast to figure out who did it. So if you have someone well-prepared in that role, they can really guide along everyone else. The VJ asks them questions according to her script, and it's easy for everyone else to answer according to their clues when they are addressed, without having to worry about trying to figure out when it's their turn to talk. But also, as another reviewer mentioned, the list of "who talks and when" is super handy - just gave that to the VJ character to check off as she went along - to ensure, if there ever is any confusion, that whoever has the clue with the specified letter answers the question she's asking. (The letters by the clues also help the girls keep their clues in order as they go along). The dialogue really got flowing once they figured it out and they loved the idea that each one of them had "secrets" they couldn't tell!
Kateryna S. - Hay River
Thursday, October 25, 2012

We had a spend-the-night party and used The Hip Hop Murder as the main attraction. It was a great mystery, and the plot was flexible enough that, when one girl had to cancel, we were able to re-write it and incorporate her part into the others. The girls were a little shy when it came time to perform their hip-hop dances (they were told about the dances ahead of time so they could prepare...), so we made it optional to dance with a friend. They all did. Once, when the music was fun, it became a group dance. I was pleasantly surprised at how well the girls "got into" their roles. This is the 2nd time we have used host-party and have been pleased both times. We did make more use of the website this year, using their on-line invitations and the girls posted to one another.
13th s. - Georgia
Thursday, March 15, 2012

This game was defintely a good buy. I played Gwen Dafoe for my 14th birthday, nearly a year ago, and it is still fresh in my memory. I would definitely recommend it for girls no younger than 12, and also, it is a good idea for a parent/guardian to introduce what would happen. Some of my guests had the whole idea of the game figured out, whereas some came, totally lost and confused about what they had to do. Costumes make the game super fun, and I would encoruage you to go all out. Don''t be shy! Put guests in roles they would find amusing, normal, but not intimidating or too unusual. I loved this game so much, I will defintely use Host Party again for my birthdyqa this year :)
mackenzie r. - wilton, CT
Wednesday, September 07, 2011

AHHHHHHHHH!!!!!! CRAZY GOOD! I am so so so so so so so so so so so excited for my party! keep up the fabuloso work! :D
mackenzie r. - wilton, CT
Wednesday, November 03, 2010

This is a great party idea! me & all of my friends loved it. it was a bit hard to get the girls to ad lib, so maybe its a good idea to pre script it, or send out the first round of clues prior to the party so that people can get an idea of what to do when they arrive. i had so much fun, & i would recommend it to anyone having a party!! i'll definately do it again!
Kellie - Australia
Sunday, July 25, 2010

I Luved the partay! It was the best Orignal partay I have eva been 2!
Rachel C. - Somewhere,Massachusetts lolz
Tuesday, June 08, 2010

I liked it. It was a great time with friends.
Megan O.
Saturday, January 02, 2010

The girls had a lot of fun with this mystery. I had a hard time getting them to ad lib - some were very good about it where others read straight from the clues. They did get a little better towards the end. Only about 3 of the 8 girls got the real killer and it seemed they first thought that person because they didn't have a lot of speaking parts but some did say how it happened so (well, the cause anyway). This was part of a birthday party so it really worked out well.
Kaitlin - Levittown, PA
Thursday, March 19, 2009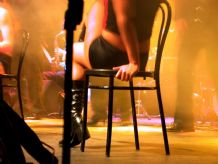 Game Information
Game Categories