'Cross Your Heart and Hope to Die?' Game Synopsis
Cast of 7 - Guests from 30 - 200
This is it! It's Fairfield High's big prom night and everyone is ready to celebrate. The whole class of 1959 is here including the cheerleader and her football-star boyfriend, the class rebel and his current fling as well as the class bookworm. But appearances can be deceiving. Someone here is not as nice as someone in their position in the school should be. In fact, someone here has many enemies - all well deserved. Prom night is supposed to be one the happiest nights in anyone's life...but for someone present this is their last night alive. Filled with humor and a healthy amount of teen-lingo (1950s style) this is the chance for everyone to laugh as well as solve the mystery. Get your cast together and put on a play!

This scripted mystery play with a "Grease"-like feeling is set at the Graduation Prom at Fairfield High in 1959.



>> Characters
>> Sample Game Materials
>> Party Theme for This Game


Register for this Game
Registration is free, but you will need to purchase to see the materials:

Contents
Host Instructions
Guest Instructions
Character Descriptions
Character Motives
Game Clues
Print-able Invitations
Email-able Invitations
Invitation Tracking
Name Tags
Pre-Game Clues
Suggested Recipes
Tips from Other Hosts
Bulk Emailing Tools
Scripts (Large Group Games Only)
Cast Materials (Large Group Games Only)
Team-Building Features (Available only in Team Building version)
Facilitator's Instructions
Team Assignments Tools
Team Building Activities
Table Tents
Team Building Tips and Suggestions
Questionnaires and Team Review Tools
Awards
Murder Mystery Reviews
This was such an awesome event. We had great success with it.
GraceLloyd - Marshall Student Center
Saturday, August 02, 2014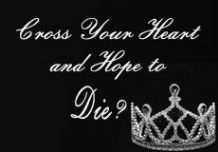 Game Information
Game Categories