'A License To Murder' Game Synopsis
8- 12 Guests
A party is being held to celebrate the wedding of top secret agent James Bland and Honor Majesties, secret agent and now Mrs Bland. The party is being held at Miss Funnymunny's Health Spa and you are invited to attend. The other guests will include many of James Bland's former adversaries who, in the new spirit of reconciliation and friendship, have been invited to celebrate the big day.

A murder mystery game for 8 to 12 players set in the world of secret agents and mad megalomaniacs.



>> Characters
>> Sample Game Materials
>> Party Theme for This Game


Register for this Game
Registration is free, but you will need to purchase to see the materials:

Contents
Host Instructions
Guest Instructions
Character Descriptions
Character Motives
Game Clues
Print-able Invitations
Email-able Invitations
Invitation Tracking
Name Tags
Pre-Game Clues
Suggested Recipes
Tips from Other Hosts
Bulk Emailing Tools
Scripts (Large Group Games Only)
Cast Materials (Large Group Games Only)
Team-Building Features (Available only in Team Building version)
Facilitator's Instructions
Team Assignments Tools
Team Building Activities
Table Tents
Team Building Tips and Suggestions
Questionnaires and Team Review Tools
Awards
Murder Mystery Reviews
We host an annual mystery for New Year's Eve, and this was one of the most fun. I sent the materials ahead of time to one player who requires Braille and he printed them his clues out at his home. I made a wedding cake for dessert and put an aghast bride on top looking down at a chalk outline where the groom should be. It was a well written mystery, and we all had a great time.
- Maryland, USA
Thursday, December 20, 2012

This is the first time I have ever had a murder mystery party. I was concerned that the previous comments on this game said it was long, so I made the party have 3 rounds. I combined 1,2,&3 into hor d oeuvres round, 4,5 &6 into a dinner round, and 7 and 8 into the dessert round. It went well. We played 11 of the 12 characters. I also reassigned some parts to other characters, so everyone had almost equal lines. The party lasted about 2 hours and 40minutes. Everyone said they had a great time. Three of the guest guessed the murderer correctly. I had trouble deciding a menu, so I went with an Asian themed buffet, I bought Six Thai meals with a large pan of fried rice, and spring rolls. Dessert was a puffed pastry with fruit sherbet. We had food left over, and better yet I didn't have to cook. Fun idea my husband came up with was a martini glass with a fingerprints on it, and a green olive with green food coloring on it as evidence.
KAREN H. - A license to Murder
Thursday, October 25, 2012

We had a little trouble with logging in, but the host-party.com staff was very helpful. I agree with other reviewers that this game is fairly long (8 rounds) but it moves pretty quickly since each round is quite short. We played with only 8 characters, which also helped move things along. There were a lot of opportunities for hamming it up and having fun. You could work on solving the mystery (which made sense) or just go along for the ride.
Lesley J. - Seattle, WA
Tuesday, November 23, 2010

This party was ace> Although it was not my party, we all had a blast. I would definatly recomend it to anyone who is stuck for a party idea. You don't know what to expect and I had never been to one before- buy it you won't be wasting your money!!! It went on for a while and by the end everyone thought it was really obvious who had killed James Bland but as always there was another twist in the plot!!! The murderer was not me, but it was so good.
beth - england
Saturday, September 25, 2010

BEST PARTY EVER! Before the party, I was reading the reviews online and got nervous since most said that it was too long. WEll, MY PARTY WENT OVER THE TIME! It depends on HOW you play it. If you sit in a circle and answer and ask questions, it will become boring and long. How I did was that people walked around and mingled with each other. They were told though to spy and listen to others conversations. I was nervous that this way people wouldn't know all the clues,but some people did figure out who the killer is, so I guess it was okay (you don't everyone to guess it!!)! Also, you HAVE to have a good group of people playing. If they don't get into it, it won't be any fun. And the last thing I suggest is to plant some of your own clues. Maybe a note with the "Dear ----" chopped off that says how much he/she HATES James! Throw in a few ringers too, to throw them off. It was more with this. Over all, the party was great. If you use all the characters, it will last about 3 hours, but it didn't even feel half that long! It was the funnest party and people are STILL talking about it! Buy this game and you won't be disapointed!
Katie B. - New York
Wednesday, February 03, 2010

We hosted "A License to Murder" last night, which was our third annual mystery party from your website. All loved the James Bond theme and everyone dressed in costume. Just a note, the game is very LONG, with many rounds and clues. If anyone is rushed for time, I would suggest a game with less rounds. Overall, it was a wonderful mystery, lots of twists and turns and no one suspected the ending... Looking forward to our next one! :>)
Mark a. - IL
Wednesday, April 01, 2009

We ran this outside as a garden party. A little bit of research into how to mix the proper James Bond vodka martini was well worth the effort. The variety of characters was great, we had the most fantastic evening. (Well I did anyway, but maybe that was the martini we had as we kicked off....) Thanks mystery.host-party, we'll be back for more!!!!
Vicki - Essex, UK
Saturday, July 12, 2008

Overall a very fun evening. All the guests arrived in character and ready to play. The characters were very creative and the guests really dressed the part and brought great props. I think that with our 12 players, the game and reading of the clues started to get a bit lengthy. For our group which tends to ad lib A LOT, we would be better suited for a murder mystery with either less rounds, less clues or less players(?). But that's just us!! Ours was a catered dinner party that we had purchased at a fundraiser so most of the food was prepared for us and ready to serve which did make for much less work and more enjoyment. We played rounds 1-3 during cocktail hour, then rounds 4-8 during dinner. The Bond theme is great. So many ways to get creative with the menu, cocktails, music, pre-party lead-up. Also there are numerous Bond/007 websites for ideas. A fun party theme overall.
Beth - New Canaan, CT
Thursday, March 20, 2008

This was so much fun!!! We played with 8 players with only about a week's notice. We enjoyed the online communication with one another. We LOVED the twist at the end... The clues were easy to follow and let everyone enjoy role playing. We can't wait to play again!!
Christy . - Central Illinois
Wednesday, February 20, 2008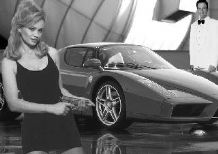 Game Information
Game Categories