'Murder at the Hop' Game Synopsis
6 or 8 Guests
The year is 1959 and a great night is in store for all of our guests when Dan Soff hosts the latest round of the National Dancing Competition. The best Rock'n'Roll dancers will be gathering at Bonnyville High School and hoping that they will win through to the National Finals with big money prizes and tickets to fame and fortune. Dan will be arriving at the televised event with his usual motorcycle stunt. He will be jumping over the Bonnyville High School Bus on his motorbike before skidding to a halt in the High School auditorium. He will then take off his helmet in front of the live cameras and the Hop will start. Please note that the usual 'National Dancing Competition' rules apply and any couple dancing suggestively will be immediately disqualified.

You are invited to a Hop to be held at Bonnyville High School, Bonnyville. The music will include all of your favorite Rock 'n' Roll songs. The Hop will also feature the regional round of the National Dance Off Competition. Tonight's host is Dan Soff, who lives in Bonnyville.



>> Characters
>> Sample Game Materials
>> Party Theme for This Game


Register for this Game
Registration is free, but you will need to purchase to see the materials:

Contents
Host Instructions
Guest Instructions
Character Descriptions
Character Motives
Game Clues
Print-able Invitations
Email-able Invitations
Invitation Tracking
Name Tags
Pre-Game Clues
Suggested Recipes
Tips from Other Hosts
Bulk Emailing Tools
Scripts (Large Group Games Only)
Cast Materials (Large Group Games Only)
Team-Building Features (Available only in Team Building version)
Facilitator's Instructions
Team Assignments Tools
Team Building Activities
Table Tents
Team Building Tips and Suggestions
Questionnaires and Team Review Tools
Awards
Murder Mystery Reviews
We had so much fun! We had the bathrooms labeled Powder Room and Gents and we served cake and chips and classic sodas. I put 1950''s music on the computer and shut off the screen. Since we couldn''t do the motorcycle accident, we had the crashing sound cued in with the music. Then we all ran downstairs and saw the body and our "motorcycle" ( a mountain bike). We had the best time and I''m already getting requests for another!
Melissa - Pleasant Hill, CA
Sunday, July 03, 2011

We had a total blast at our party! There were 16 of us, so we made up 8 auxiliary characters, which in itself was fun to do. Everyone was so excited and they really got into trying to figure out who the murderer was. Thanks for making it easy to pull off, Host-Party.com!
Autumn W. - Camarillo, CA
Wednesday, May 27, 2009

Awesome, most fun I've had in a long time, best birthday party I've ever had! My mom and I planned a murder mystery party for my 13th birthday. We did Murder at the Hop. Since my birthday is on St. Patrick's day we pretended Bonnyville High's school colour was green and emblem was the shamrock. We all were in costume, danced to 50's tunes, had glow sticks and did karaoke. We had lollipops and bubble gum for treats. My mom and dad pretended to be reporters covering the dance competition and then news reporters after the murder happened. We had the body traced out on the floor with crime scene tape around it. We had burgers and fries for supper with milkshakes or floats. My birthday cake was in the shape of an icecream sundae. The person who solved the murder won a hula-hoop. My dad looked up 50's slang for us to use. We ended the night watching the movie "Grease". We had homemade sundaes after midnight because my friend said everything tastes better after midnight. On that night it was true.
Danica . - Grimshaw, Alberta, Canada
Friday, March 20, 2009

We had a great time at the hop. I have hosted a few different murder mysteries and I must say that this was the absolute best one yet. The only real problem I had was that too many people wanted to go because they had never been to one before. So here is what I did. I wrote in a section for Ava, talked about co host, a small part for Dinah, and a part for a policeman. The ones I had left after that justed played investigators and we had a blast. We did the limbo, karoake, a dance of and a hula hoop contest. We didnt stop laughing all night. You wrote a great story!
Berni a. - Midland, Ontario
Wednesday, March 11, 2009

We thoroughly enjoyed playing 'Murder at the hop'. The singing and participation became louder and louder as the evening went on and there were some hysterical one-liners. I would recommend the game to anyone.
Gill H. - Hull
Saturday, September 01, 2007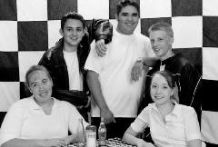 Game Information
Game Categories