'And the Winner is....Murder (Large Group)' Game Synopsis
Cast of 9; 30+ Guests
Could anything be more exciting than the Academy Awards? This mystery takes place on the night before the big night during the private party that Columbus Studios is throwing to celebrate their 7 nominations including "Best Picture" for the studio's blockbuster hit "Back When I Loved You". Your guests will meet the three stars of the film,(all nominated), the director, the producer, the costume designer and the public relations manager. Anyone would think that on a night such as this everyone would get along. But someone isn't waiting until tomorrow night for their dreams to come true. A fond, funny and sometimes irreverent look at the movie business, this is a scripted dinner-theatre type presentation running approximately 1 1/2 hours that gives everyone a chance to live the life of a Hollywood star!

A scripted play that takes place at a private party the night before the Academy Awards. Show business can be deadly!



>> Characters
>> Sample Game Materials
>> Party Theme for This Game


Register for this Game
Registration is free, but you will need to purchase to see the materials:

Contents
Host Instructions
Guest Instructions
Character Descriptions
Character Motives
Game Clues
Print-able Invitations
Email-able Invitations
Invitation Tracking
Name Tags
Pre-Game Clues
Suggested Recipes
Tips from Other Hosts
Bulk Emailing Tools
Scripts (Large Group Games Only)
Cast Materials (Large Group Games Only)
Team-Building Features (Available only in Team Building version)
Facilitator's Instructions
Team Assignments Tools
Team Building Activities
Table Tents
Team Building Tips and Suggestions
Questionnaires and Team Review Tools
Awards
Murder Mystery Reviews
This mystery was excellent. Not too hard and interesting. The entire group stayed interested the entire time.
Georgie A. - Gallatin, TN
Wednesday, April 14, 2010

What great fun. It was very entertaining. Having good clean fun is so refreshing!! I would reccommend this activity to any group who loves to laugh and have a good time. Bravo!
Sherry F. - Wichita, KS
Sunday, September 20, 2009

I work as a fundraiser for a charity, and I used this game to host a fundraising dinner party for 75 guests. Each table worked as detectives to solve the mystery, and I used a local amateur dramatic society to play the main parts, everyone else came as guests to the 'Pre-Academy Awards Party'. We cut the script back so that it fitted into 5 acts which we interspersed with courses of the dinner. It worked really well, I absolutely loved the storyline and glamour of the whole occasion. Only one out of 8 tables made the correct accusation (which is perfect, because it means it is possible to guess, but also not easy). We had a great evening, all my guests really enjoyed themselves, I loved the story and we raised just over £2000 for the charity. Thanks for a great Murder Mystery to work with.
Clare C. - UK
Friday, December 05, 2008

This mystery was used to kick off our annual sales awards banquet. It was absolutely perfect with the theme and was loved by everyone in attendance. The website is amazing and makes your event so easy to plan! Thank you Host-Party.Com!
Betsy H. - Findlay, Ohio
Thursday, December 04, 2008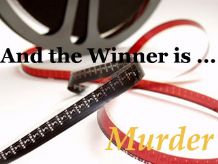 Game Information
Game Categories