'A Pharaoh's Revenge' Game Synopsis
8 Guests
Archie Ollogist, the famous archeologist and Egyptologist is getting close to his quest, For many years he has believed the the tomb of Pharoah Rameses II in the Valley of the Kings was a false tomb. Even the supposed mummy of Rameses II, found in the Royal tombs at Deir el-Bahri, only had a small piece of papyrus with the name Rameses II on it and had no jewels or amulets. Archie believed he had found the secret of the tombs's real location and at a thrilling party he is going to open the small golden chest and reveal the secret which has been hidden for over 3000 years. That is unless the Curse of the Pharoah doesn't get him first!

A modern day murder mystery for 8 players set in the world of the Pyramids and Sphinx. Join some of the top archaeologists for a night of surprises and shocks in the heat of the Egyptian desert.



>> Characters
>> Sample Game Materials
>> Party Theme for This Game


Register for this Game
Registration is free, but you will need to purchase to see the materials:

Contents
Host Instructions
Guest Instructions
Character Descriptions
Character Motives
Game Clues
Print-able Invitations
Email-able Invitations
Invitation Tracking
Name Tags
Pre-Game Clues
Suggested Recipes
Tips from Other Hosts
Bulk Emailing Tools
Scripts (Large Group Games Only)
Cast Materials (Large Group Games Only)
Team-Building Features (Available only in Team Building version)
Facilitator's Instructions
Team Assignments Tools
Team Building Activities
Table Tents
Team Building Tips and Suggestions
Questionnaires and Team Review Tools
Awards
Murder Mystery Reviews
Our Scout Troop worked this into the fingerprinting Merit Badge. We defined three extra characters and gave them new clues to interact with other characters. Loads of fun, the boys REALLY enjoyed it.
Tim W. - Blue Springs, Missouri
Thursday, March 27, 2008

This is a great murder mystery and we all had loads of fun dressing up. I challenge anyone to spot the real sting in the tail. Wow what an ending!
Doug B. - Midway
Tuesday, October 09, 2007

We had a great evening playing this game. The Fez I bought in Cairo came in useful for my costume along with the plastic sphinx (£6 E Bay). The game was well researched & is a must for Egyptomaniacs. I've already booked my Nile cruise.
Robert M. - Derby, England
Sunday, April 22, 2007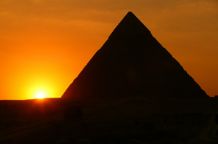 Game Information
Game Categories