'Death of the Blue Shadow' Game Synopsis
8 Guests
At a small science fiction and fantasy convention, a group of superheroes are preparing to take the stage and wow the public with their debut as a new team, the Universal Hero Society. But before they can even take the stage one of their own is found dead, the beautiful technowhiz Blue Shadow. Could one of the super-heroes actually be a super-villain?

Modern day adventure set at a superhero focused science fiction and fantasy convention. Includes four optional characters for which you can create your own clues to help customize your gaming experience!



>> Characters
>> Sample Game Materials
>> Party Theme for This Game


Register for this Game
Registration is free, but you will need to purchase to see the materials:

Contents
Host Instructions
Guest Instructions
Character Descriptions
Character Motives
Game Clues
Print-able Invitations
Email-able Invitations
Invitation Tracking
Name Tags
Pre-Game Clues
Suggested Recipes
Tips from Other Hosts
Bulk Emailing Tools
Scripts (Large Group Games Only)
Cast Materials (Large Group Games Only)
Team-Building Features (Available only in Team Building version)
Facilitator's Instructions
Team Assignments Tools
Team Building Activities
Table Tents
Team Building Tips and Suggestions
Questionnaires and Team Review Tools
Awards
Murder Mystery Reviews
This was such a fun game to plan and play. We had guests of all age groups and from kids to adults everyone had a great time. Even the party poopers got involved. The only downside is that everyone is asking when I am going to have my next party!
Judy S. - Round Rock, TX
Wednesday, December 09, 2009

This party ROCKED!!! My husband Jerry and our sons Justin, Edward, and David attended "Death of the Blue Shadow" on Dec. 8 at my brother Jeff and sister-in-law Judy's new apartment. The fun started before we were even in the door: 'red carpet'-ed sidewalk, poster, and a front door marked "VIP Lounge"! We entered, and Judy, our host, was in costume and welcomed us to the super-hero convention. There were wonderful decorations; a favorite was the use of super-hero sound effect cut-outs on the walls: 'blam', 'pow', etc., just like on the old Batman TV show! We quickly changed into our costumes, and mingled with them and family friend Frank. As we awaited the other guests, we helped ourselves to the wonderful deli and fruit and veggie platters, and the chips and dip and plenty of ice cold drinks. When the other guests (Hattie, Kim, and Justin) arrived, the mystery started. We had a great time trying to solve it. In the end, Frank won by being the only guest to solve the mystery.....now there will be no stopping his ego, hahaha! David won for best costume and best slogan, and Hattie's friend Justin won for best super power. Though many of us had never been to a murder mystery party before, we all had a great time and it was not difficult for the novices to get the hang of things. Judy had added some characters at the last minute; no one correctly guessed all of the ones they were, a real testament to her story-telling abilities! It was great fun seeing all of the creative costumes and hearing slogans and powers, and giving reasons for our guesses at whom the villian was. This was a brilliant party and will not be forgotten!!!
Donna - Round Rock, TX
Wednesday, December 09, 2009

We all rather enjoyed this murder mystery much more than we thought we would. the best part would have to be dressing up as superheroes. Thank you very much for a wonderful night.
Rebecca K. - Perth, Western Australia
Thursday, June 11, 2009

This was the first Murder Mystery Game played by our eight adult family members. Everyone enjoyed the game and had great fun staying in their character roles. Only one member was able to guess who did it which means the clues did a good job of creating everyone as a suspect. We all look forward to playing another game as a family!!! Wearing costumes helped encourage the theme of the story as Super Heroes!
Lydia D. - Herndon, VA
Thursday, November 06, 2008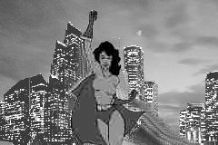 Game Information
Game Categories