'Murder at the Dunmore Lodge' Game Synopsis
15+ Guests
The weather service predicted a record snowfall and, for once, they were right. Thirty six inches of snow has fallen in the last 24 hours and it is still snowing. To make matters worse two separate avalanches have wiped out the eastern and western arms bridges. The only sign of civilization between the two bridges is the historic Dunmore Lodge, once a grand old Lodge catering to the elite of society it is now little more than a glorified bed and breakfast. But now this Lodge has suddenly become the difference between life and death for anyone trapped between the two bridges. One by one the newly stranded begin arriving at the Dunmore and snatching up the wealth of available rooms. The most famous of the stranded guests is Senator Alexander Khun who was on his way to Washington D.C. to announce his intention to run for President. But the following morning Senator Khun is found with a knife in his chest, very much dead. Two realizations come very quickly to the minds of the remaining guests: the murderer must be someone at the hotel and, thanks to the ongoing storm and impassable bridges, they are all trapped there with him ... or is it her?

This game is meant to be acted out like a Dinner Theatre if front of any number of guests. It can be performed as a dinner theatre party or in a more informal party setting. The game setting is a quaint country Lodge in Vermont, far removed from any urban center.

Also available in: 6 Character Version

>> Characters
>> Sample Game Materials
>> Party Theme for This Game


Register for this Game
Registration is free, but you will need to purchase to see the materials:

Contents
Host Instructions
Guest Instructions
Character Descriptions
Character Motives
Game Clues
Print-able Invitations
Email-able Invitations
Invitation Tracking
Name Tags
Pre-Game Clues
Suggested Recipes
Tips from Other Hosts
Bulk Emailing Tools
Scripts (Large Group Games Only)
Cast Materials (Large Group Games Only)
Team-Building Features (Available only in Team Building version)
Facilitator's Instructions
Team Assignments Tools
Team Building Activities
Table Tents
Team Building Tips and Suggestions
Questionnaires and Team Review Tools
Awards
Murder Mystery Reviews
The party went amazingly. The script was well written and the party wasn't extremely difficult to prepare for. Everyone loved the play and the ending was a shocker. I would definitely do it again a thousand times.!
Devin - Arkansas
Thursday, October 31, 2013

We hosted Murder at Dunmore Lodge for a charity event, our audience enjoyed our little play, and two of the tables actually worked out the full plot and who did it. We thank you for the ease on how to purchase and would recommend your website to many of my friends. Thanks you for an excellent and fun night from all concerned.
Annette W. - North Yorkshire, UK
Wednesday, November 28, 2007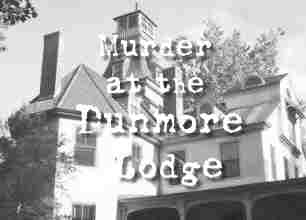 Game Information
Game Categories