'A Rockin' Hot Tub Murder' Game Synopsis
8 - 12 Guests
A party is being held at Effingham Hall, the new home of rock legend, Roland Stone. The party is to celebrate the 30th anniversary of the formation of Roland's group 'The Falling Rocks'. However tragedy strikes and Roland is electrocuted in his new hot tub. The guests at the party are now all suspects.

A classic style murder mystery game for 8 to 12 players set in the present. Ideal for playing around a hot tub or pool or for a summer barbecue. It's electrifyin'.



>> Characters
>> Sample Game Materials
>> Party Theme for This Game


Register for this Game
Registration is free, but you will need to purchase to see the materials:

Contents
Host Instructions
Guest Instructions
Character Descriptions
Character Motives
Game Clues
Print-able Invitations
Email-able Invitations
Invitation Tracking
Name Tags
Pre-Game Clues
Suggested Recipes
Tips from Other Hosts
Bulk Emailing Tools
Scripts (Large Group Games Only)
Cast Materials (Large Group Games Only)
Team-Building Features (Available only in Team Building version)
Facilitator's Instructions
Team Assignments Tools
Team Building Activities
Table Tents
Team Building Tips and Suggestions
Questionnaires and Team Review Tools
Awards
Murder Mystery Reviews
This was my fourth mystery from host-party. It was a blast! The characters were good and the story was funny. We had plenty of laughs. It was good a good length (8 rounds) and nobody guessed correctly who did it! We had a blast dressing up for our parts and trying our hardest to talk in an English accent. To ham it up, I always do a 'confessional room' about 2/3rds the way through, where each person goes in a room and tapes themselves discussing who they think the killer is and why. Then I usually add another question or game for them to say in front of the camera as well. What I did this year was find some mad-libs and asked that they all stay in character with the accent and read the mad-libs. Then we watch it before the final round to see who was right. It was so funny! These games are great - even some of my more shy friends really get into it and we look forward to doing a mystery every year! I host this party with a group of girls, so some people just play the male characters and dress the part. Everyone has a great time :) I look forward to these mysteries every year and start planning months ahead because I get so excited! If you've never done one, know that they are usually about 120 pages and you have to print it off and cut the clues out. I always have my husband (who doesn't attend the party) cut out the last two rounds so that I don't see who the murderer is. I usually make food and drinks to match the theme - like with this one I foudn Pimm's liquor to make cocktails and made tarts and sausuage rolls. I look for reviews on games that talk about peopel having fun and laughing a lot, becuase I want the group to be silly and relaxed...and this particular game really fit the bill!
Laura E. - Larsen, Wisconsin
Tuesday, September 16, 2014

The three of us purchsed the Rockin Hot Tub Murder to raise money for the March of Dimes. Everyone had a great time. The game is written for 12 people, but we had 13. So as the material suggests, we had a "Policeman" come to investigate and announce to the group that there had been a murder after everyone heard a loud screem from downstairs (the murder scene). We taped off Roland Stone's siloutte so everyone could see that he had been in the hot tub. We also had borrowed guitars, amps, a keyboard, etc. to add to the atmosphere. The rounds were played all over the house. Cocktails and drinks in the den, soup and salad outside, dinner in the living room (buffet tables end-to-end) and dessert outside. Moving the group around was easy and lots of fun. It also allowed somthe hosts to prepare one room while everyone was in a different location. Most of the work could be done before the event even began. Even those "quieter" cast members had lots of fun. We were told that next year, the winning bid will be twice as much as it was this first year!
Lisa, D. - Spartanburg, SC
Thursday, July 30, 2009

This was a most amazing experience. My guests were sooooooo into the game it was unbelievable. I thought it would be a casual way to spend an evening, but my guests got completely into it. Everyone came in costume, including those who swore it wasn't their thing. A fabulous time was had by all. I'm sure you will be hearing from us again. Happy partying to all!!!
Patricia . - Sarasota, FL
Saturday, April 04, 2009

We chose a hot tub murder to celbrate New years Eve and despite initial panic having never attempted anything like this before, the evening went surprisingly well. We had to deal with a last minute cancelation which meant that one of the guests had to play 2 characters but it was still easy and flowed well. The only problem we had was how to stop people asking questions in advance of knowing the answers (I chose a particularly intelligent and inquisitive party to my regret ;-) ) Loved the website and the ease of downloading and inviting people directly from the site. Very impressed overall and would recommend.
Marian - UK
Saturday, January 24, 2009

This game was hysterical from start to finish. I don't know if it was the plot or cast of characters that made this one of the funniest murders we have ever experienced in our house. Our guest arrived fully prepped. They even had additional scripts that they were planning to use throughout the evening. We had prizes for the best costom, and for the person who solved the mystery but we didn't need any kind of incentives for the cast to gear up and get with program. We had an 8 course meal with only wine at dinner and the game that normally runs 1:30 - 3:00 hours, took over 5 and we had to kick them out of the house. We all had a very good time and everyone asked if this was going to be a annual event. What could I say but see you next year.
Rick a. - Loveland, OH
Sunday, October 26, 2008

Our party was a great success with this mystery. I created my own party invitation that included the Pre Game Newspaper Report. During the dinner preceding the game someone asked where Roland was and several of the guests joined in the inquiry. This really set the tone for the announcement of death later. The clues were well written. Everyone really got into their roles and had a great time.
Nancy . - Bury St.Edmunds, UK
Wednesday, March 19, 2008

We actually played this game on a houseboat which happened to have a spa on board so the setting was perfect. The characters are good value and the twists and turns in the plot caused a lot of laughter. We had 12 players on the night and the extra players had plenty of info to work with. In hindsight it probably would have been slightly better if the wife and I had not played, but truely hosted the night, as we had some first timers who needed guidance. We could have then been a detective and prompted the questioning a little more. We will definitely play this again
Paul F. - Adelaide Australia
Wednesday, March 19, 2008

I wasn't sure how it was gonna turn out since I had never done this before. There is no better way to get strangers to talk. No one at my party felt excluded, and everyone was communicating with everyone, you had to communicate really. By the end of the game everyone was comfortable hang out with everyone else. It was sooo much fun and never have I seen so many people bust out of there shells. Everyone came in costume, even lord and lady effinhan painted their hair gray, it was great. Even those who had doubts about having a good time admitted to me when it was time to go home that it was a lot of fun. I definitly will be having another one of these parties.
Julie S. - Riverside, California
Wednesday, October 03, 2007

Wow this is so cool.... It was so cool for everyone 2 get so into their characters... Amazing... I reccommend it... No one guessed the murderer cause everyone was so convincing...
Lauren
Friday, July 13, 2007

We had a great time. I had never participated in a murder mystery, much less hosted one, so I was anxious as to how it would work. The instructions were easy to follow. Our guests came in great costumes and had a fun time with their characters. We laughed most of the evening.
Tina - Virginia
Thursday, April 19, 2007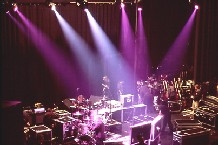 Game Information
Game Categories